Level Sensors / Detectors / Transducers
TrueCap® RF Capacitance Level Sensor Now Available with Quick-Connect Process Connection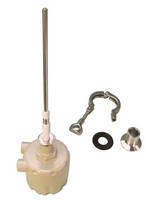 Monitor Technologies' TrueCap® Model MK-2 RF Capacitance point level sensor is designed to provide a superior and stable sensitivity threshold making it a reliable solution for a variety of powder and bulk solids, liquid and slurry applications.

The now available "quick-connect" tri-clamp process connection option provides easy installation and removal of the TrueCap® unit for cleaning purposes. This connection has no exposed threads and offers an affordable solution for general sanitation situations not requiring 3-A rating. The tri-clamp is available for the Ryton® and Nylon (food grade) versions of the standard and stub probes. Also, the quick-connect fitting can accommodate both a 1" and 1-1/2" ferrule size. Clamping accessories are available.

Advanced features of the TrueCap® Model MK-2 include automatic immunity to material build-up on the probe by its driven shield design and maximized reliability via smart sensing algorithms like "self-validating" fail-safe protection.

Please visit www.monitortech.com, e-mail monitor@monitortech.com or call 1-800-601-6204 for more information.

About Monitor

Monitor Technologies LLC is a dependable supplier of level measurement instrumentation, solids flow monitors, particle emission monitors and aeration devices for the worldwide powder and bulk solids markets. The experience and market knowledge gained over 50 years of business has earned Monitor a reputation for providing high quality and practical product solutions backed by trusted customer service. Monitor is located in Elburn, Illinois. For more information please refer to www.monitortech.com or contact Mr. Greg DeRudder or Mr. Chris Otte of Monitor Technologies at 1-800-766-6486 (630-365-9403).


More from Communication Systems & Equipment