True-RMS AC Ammeters scale and display output of 5 A CTs.
Press Release Summary: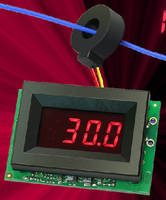 Comprised of 6 models that cover 100, 200, and 500 A input ranges, Datel ACA5-20RM series interfaces directly with external 5 A output current transformers (CT) to provide dependable measurements in switching power supply applications. Choice of 85-140 Vac or 170-264 Vac operating voltage is available for each input range, and functionally complete design uses single-board construction. With max power consumption of less than 50 mA, series features crest factors as high as 5.
---
Original Press Release:

Murata Power Solutions Announces: ACA5-20RM Series: True-RMS AC Ammeters



True-rms AC ammeters interface directly with current transformers to give dependable measurements in switching power supply applications

o Six model family covering input range of 100A to 500A
o Direct interface to output of external 5A current transformer
o Choice of operating voltages (85 to 140VAC & 170 to 264VAC)
o Crest factors (peak current to rms current ratio) up to five

The Datel ACA5-20RM series from Murata Power Solutions is a new family of functionally complete, high current, true-rms responding AC ammeters designed to interface directly with an external 5A output current transformer (CT) Covering input ranges from 100A to 500A, the ACA5-20RM series is ideal for use in electronic equipment that uses switching power supplies such as inverters and generators, battery chargers, power distribution units and AC/DC power supplies.

True-rms responding ammeters provide accurate and reliable performance in switching power supply applications where input currents are typically distorted and do not resemble the universally recognised sine-wave shape. Other approaches to measurement such as average responding AC ammeters can result in reading errors in excess of 20% of their full-scale output. In critical applications, this may lead to inadvertent overloading of circuit breakers or fuses, which in turn can cause costly power outages.

The ACA5-20RM family scales and displays the output of 5A 'donut' style current transformers (CTs). The series covers three ranges: 100A, 200A and 500A. A choice of 85 to 140VAC or 170 to 264VAC (at 47 to 63Hz) operating supply voltages is offered for each range. Maximum power consumption is less than 50mA and operating temperature range is 0ºC to +60ºC.

Crest factors (the ratio of peak current to rms current) for the ACA5-20RM series are as high as five and all models specify 2000V isolation between the AC power source and the external 5A CT. The functionally complete design uses a reliable single-board construction, has a built-in low-burden toroid sensor and a bright red LED display with 9.4mm (0.37in.) high characters. Where specific applications require, Murata Power Solutions can supply 100:5, 200:5 and 500:5 accessory CTs.

Pricing for ACA5-20RM ammeters is $94 for singles and drops to $79.90 at 100 pieces. Small quantities (less than ten) are available from stock, while OEM quantities are 12 weeks ARO.

About Murata Power Solutions

Murata Power Solutions (www.murata-ps.com) is headquartered in Mansfield, Massachusetts, with over 1,300 employees, and locations in the USA, Canada, England, France, Germany, Singapore, Japan and China. Murata Power Solutions designs, manufactures and distributes DC/DC Converters, AC/DC Power Supplies, Magnetics, Data Acquisition devices and Panel Meters, and offers these products in custom, standard and modified-standard variations. These products, which are built to exacting requirements in ISO9000:2000-approved facilities, are typically used worldwide within telecommunications, computing, industrial and other high-tech applications.

About Murata

Based in Kyoto Japan, Murata Manufacturing Company Ltd is one of the world's leading providers of ceramic based components, sensors, and AC/DC and DC/DC power solutions. Founded in 1950, the company has over 34,000 employees worldwide, and over $6.3 billion US in consolidated annual sales (as of March 31, 2008). Everywhere in the world, wherever you can reach, Murata's electronic components are always at work.

Contact:
John Sutherby, Marketing Communications Department
Telephone: +1-508-339-3000 x 117

More from Software