Truck-Mounted Platform provides length up to 66 ft.
Press Release Summary: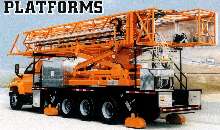 Model HPT 20/66 mobile Truck Mounted Under Bridge Access and Work Platform accommodates several workers and materials, up to 2,000 lb total, simultaneously on 42 in. wide platform. It incorporates Tower Separation System and is self-erecting and self-propelled on bridge.
---
Original Press Release:

Hydra Platforms Mfg. Inc. Announces Our Truck Model HPT 20/66 with a 20M/66 FT Platform


Hydra Platforms Mfg Inc proudly introduces the longest mobile Truck Mounted Under Bridge Access and Work Platform manufactured in the USA, with an extended platform length of 66 feet.

Hydra Platforms Mfg Inc has, over the past 20 years, established itself as the leading USA manufacturer and innovator of self erecting under bridge platforms.
(note: under bridge platforms are different than articulated bucket systems)

Hydra Platforms Mfg Inc introduced the first budget priced Trailer Mounted Under Bridge Platform to the USA market in 1984, making it possible for Contractors and State DOT's to purchase cost effective self erecting and self propelled Platforms for under bridge maintenance, repair and bridge inspection operations.

Hydra Platforms offers the added benefit of accommodating several workers and materials on the platform simultaneously. Prior to Hydra Platforms' design, now incorporating our Patented Tower Separation System, Bucket Systems were the only option for under bridge access. Bucket Systems allow a maximum of 1 to 2 workers in the bucket at a time with limited weight capacities. The Hydra Platform offers platform weight capacities of up to 2000 pounds, with a platform width of 42 inches and, as stated, platform lengths up to 66 feet.

Hydra Platforms Mfg Inc is the only manufacturer in the USA of Under Bridge Platform Equipment, who now successfully compete with the German and Italian Companies. These companies, in the past, have dominated the world markets, and more particularly, export markets. Hydra Platforms now sets the standard and is the premiere USA manufacturer and exporter of under bridge access platforms.

Hydra Platforms Mfg Inc is proud of our accomplishments in the World Market in the past several years. Hydra has been awarded by the United States Department of Commerce, the Export Achievement Certificate, and by the South Carolina Small Business Administration, the Small Business Exporter of the Year. Hydra now exports to China, Russia, India, Europe, and other world markets.

Hydra Platforms Models include:
o Trailer Mounted Platforms with platform lengths up to 10.7 m / 35 ft
o Truck Mounted Platforms with platform lengths up to 20 m /66 ft
All Models are self erecting and self propelled on the bridge and incorporate our Patented Tower Separation System, exclusively by Hydra Platforms.

For additional information regarding our Hydra Platforms
Contact: Garth E. McGillewie
o Phone: 803-831-8195
o Fax: 803-831-0606
o E-mail: info@hydraplatform.com

More from Mechanical Components and Assemblies