Truck Crane provides on-board reach of 200 ft .
Press Release Summary: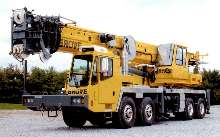 Powered by Cummins ISM450, 6-cylinder, turbo-charged and after-cooled diesel engine, Model TMS900E, 90-ton crane travels at speeds up to 65 mph. Upper portion provides 5-section, full-power MEGAFORM(TM) boom with TWIN-LOCK(TM) boom pinning system. Electronic Crane Operating System controls pinning and extension of boom sections to selected configuration. Bi-fold lattice 33-56 ft swing-away extension provides machine-tip height of 204 ft. Optional hydraulic offset increases height to 237 ft.
---
Original Press Release:
Unmatched Reach and Roadability - The New Grove TMS900E
The new Grove TMS900E truck crane combines two proven superstructure and chassis components to provide users with a 90 ton (75 tonne) machine that travels smoothly down the highway at speeds up to 65 mph (104 kph) and carries almost 200 ft (60 m) of on-board reach. This new model from Grove utilizes the upper from the GMK4090 all-terrain crane that provides a five-section full-power MEGAFORM(TM) boom and features Grove's exclusive TWIN-LOCK(TM) boom pinning system. This system utilizes a single cylinder located in the boom base section, which keeps the center of gravity lower, eliminates multiple cable drums mounted on the boom and reduces travel weight. The Grove Electronic Crane Operating System (ECOS) works in conjunction with the EKS4 LMI via Can-Bus technology and controls pinning and extension of the boom sections to the selected boom configuration. Combined with the MEGAFORM shape, the result is a lightweight, yet strong boom system that offers the best capacities in its class. Maximum main boom tip height is 150 ft. (45.8 m). A 33-56 ft. (10-17 m) bifold lattice swingaway extension is manually offsettable at 5 degrees, 20 degrees, and 40 degrees, and is provided as standard equipment. With this extension, machine tip height is 204 ft. (62.3 m). As an option, the bifold swingaway can be hydraulically offset from 5 to 40 degrees, with luffing controlled from the crane cab. Two 16 ft. (5 m) inserts can be used with either extension for a machine maximum tip height of 237 ft. (62.3 m), an impressive number for a compact truck crane with an overall length of only 42 ft. 10 in. (13.0 m). The superstructure cab features aluminum construction and is hydraulically tiltable from -5 degrees to 15 degrees for easier operator viewing of the work at hand. Sliding right side and rear windows, opening windscreen, and ergonomic interior add to operator comfort and productivity. The chassis will be familiar to truck crane users as it is very similar to the TMS875C truck crane. It features an air suspension front and rear for outstanding highway travel performance with a maximum speed of 65 mph (104 kph). When picking on rubber over the rear, the air bags are deflated to provide a stable platform. The outrigger system is the Grove hydraulic telescoping, two-stage, double box beam outriggers with inverted jacks and quick release floats. The outriggers feature three position settings-fully extended, intermediate (50 percent), and fully retracted. Controls for the outriggers are located in the superstructure cab and also on either side of the carrier. The machine is powered by a Cummins ISM450 six cylinder, turbo-charged and after-cooled diesel engine, developing 450 bhp (298 kW) gross at 1800 RPM. The Roadranger transmission provides eleven speeds forward and three reverse. Drive is 8x4x4. A complete array of controls and instrumentation is provided as well as aluminum fenders with rear storage compartments, block and ball stowage and aluminum wheels to name just a few of the chassis features. Other features of the TMS900E include up to 31,500 lbs of power installed and removed counterweight with multiple configurations to enhance roadability in every area, 16 mm wire rope to make reeving changes easier, optional air conditioning in both carrier and superstructure cabs, and optional items to make roading easier depending on area such as trailing boom package and rear counterweight stowage brackets. Grove has an unsurpassed North American and international presence with distribution in more than 125 countries on six continents plus industry-leading manufacturing and product development facilities and partners in North America, Europe and Asia. Grove is owned by the Manitowoc Crane Group. About the Manitowoc Company: The Manitowoc Crane Group is a business entity of The Manitowoc Company, Inc., a leading producer of lattice-boom cranes, tower cranes, mobile telescopic cranes, boom trucks, and related products for the global construction industry. It is also a leading manufacturer of ice-cube machines, ice/beverage dispensers, and commercial refrigeration equipment for the foodservice industry. In addition, it is a leading provider of ship repair, conversion and new building services for government, military, and commercial customers throughout the maritime industry. For More Information Contact: Tim Cody, Manager Market Support, Grove Worldwide - Americas Region (717) 593-5348 E-mail: tcody@groveworldwide.com Louis Frank, President Frank Group, Inc. (717) 840-1060 E-mail : lou@frankgroupinc.com
More from Electrical Equipment & Systems