Truck Anchor Pin Press promotes brake safety.
Press Release Summary: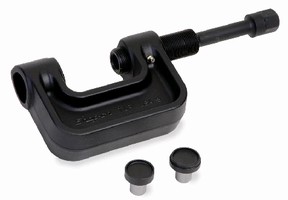 Designed for 16½ in., Q-type S-cam tractor and trailer brake systems, Model TAP1 enables technicians to remove and replace pins and bushings without removing hub. Portable unit can run with ¾ in. impact gun, cutting process down from 30 min to 5 min. Pressure pad retaining rings hold pads firmly in place, while high-strength yoke and 1¼ x 12 in. pressure screw threads move difficult pins/bushings, and Zerk grease fitting lubricates and flushes dirt from pressure screw.
---
Original Press Release:
New Snap-On Truck Anchor Pin Press Saves Technicians Time, Money and Increases Safety
Removes and Replaces Pins and Bushings without Removing the Hub KENOSHA, Wis. (August 31, 2006) - Snap-on Tools' Truck Anchor Pin Press addresses technicians' desire to save time, increase safety and improve job performance. This new and innovative pin press allows technicians to remove and replace pins and bushings without removing the hub - saving about 25 minutes per hub. Replacing brake anchor pins and bushings is a very important safety component. Due to its traditional time-consuming replacement process, it was sometimes overlooked. The new TAP1 makes the procedure simple and quick while promoting brake safety and enhancing performance. Specially designed to remove and reinstall the pin and bushing without taking the hub apart, the TAP1 portable pin press can run with a 3/4 inch impact gun. This cuts the average time down from 30 minutes to five, allowing technicians to focus their time on other projects. The TAP1 is also three times stronger and generates 30 percent more force than the standard competitive service set. The TAP1 ensures that enough power is applied to the replacement process. The pin press's pressure pad retaining rings hold the pads firmly into place. This helps to get the job done right by allowing for more stability and control. Competitive tools do not feature pressure pad retainers and oftentimes require the aid of another technician. Enhancing the tool's versatility, its interchangeable pressure pads allow removal of a bushing alone or simultaneous pin/bushing removal. This saves technicians time from switching tools back and forth. Providing proper tool alignment and maximum force transferred to pins/bushings, the TAP1 frame is beveled on both sides for clearance around rivets on stamped brake "spiders." Its high-strength yoke and heavy 1 1/4 inch x 12 inch pressure screw threads move the most difficult pins/bushings. Plus its reduced diameter shank provides needed hub clearance. Further, the Zerk grease fitting lubricates and flushes dirt from the pressure screw, helping maintain the life of the pin press. The TAP1 is the ideal tool for on-the-spot jobs. It is specifically designed to remove brake anchor pins and bushings on 16 1/2 inch "Q type" S-cam tractor and trailer brake systems from Dana-Spicer, Arivin-Merito (Rockwell), Eaton, Timkin and Fruehauf. Customers can find out more about the Snap-on Truck Anchor Pin Press (TAP1) by contacting their local Snap-on representative, visiting www.snapon.com or calling toll free 877-SNAPON-2 (877-762-7662). Snap-on Tools Company, LLC is a subsidiary of Snap-on Incorporated, a leading global developer, manufacturer and marketer of tool and equipment solutions for professional tool users. Product lines include hand and power tools, diagnostics and shop equipment, tool storage products, diagnostics software and other solutions for the transportation service, industrial, government, education, agricultural, and other commercial applications, including construction and electrical. Products are sold through its franchised dealer van, company-direct sales and distributor channels, as well as over the Internet at snapon.com. Founded in 1920, Snap-on is a $2.4 billion, S&P 500 company headquartered in Kenosha, Wis., and employs approximately 11,300 people worldwide.