Tru Body Wellness Offers Ceramide–PCD®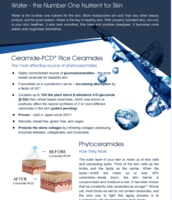 Tru Body Wellness is proud to have rice-based Oryza Ceramide-PCD® raw material as part of its product offerings. This natural material works to rebuild damage to the skin from inside the body unlike topical applications. Containing highly concentrated glucosylceramides, Ceramide-PCD assists the skin in keeping up its defenses against environmental damage. This unique ingredient is a non-GMO, vegan friendly, dairy and gluten free food-grade powder that has the versatility to be used in capsules, tablets or liquids. Ceramide-PCD contains up to 10X the plant sterols that is offered by wheat-based ceramides. Customers can create their own unique product that includes this clinically tested ingredient that supports skin health.
Don Wiencek, President, commented "This clinically tested and highly specialized ingredient has been sold in Japan since 2001. Over 20 products using Ceramide PCD® have been approved through the Health Functional Food System for the safe use for dry skin by Japan's Consumer Affairs Agency."
Oryza Ceramide PCD® was clinically tested to show improvement in the skin's condition regarding:
Increased moisture retention*
Decreased dryness*
Improved texture*
Reduction in fine lines and wrinkles
Tru Body Wellness and our parent company, Healthy Body LLC, is a proud to be Oryza's exclusive North American distributor of Ceramide-PCD®. Call us today at (877) 419-4004 or email Sales@Ceramide-PCD.com to learn more about this patented and proven ingredient. Please visit our web site at www.ceramide-pcd.com.
Ceramide-PCD® is a registered trademark of Tru Body Wellness.
*These statements have not been evaluated by the Food and Drug Administration. This product is not intended to diagnose, treat, cure or prevent any disease
More from Health, Medical, & Dental Supplies and Equipment