Tru Body Wellness Now Offers Pet Supplements Product Line for Total Body Health
Press Release Summary: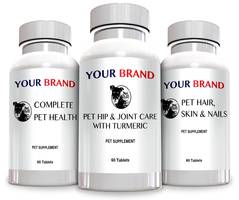 Tru Body Wellness's new pet supplements line includes product offereings for complete pet health, hip and joint care, and hair skin and nails. The chewable tablet supplements are made with a mix of herbal and propietary blend ingredients that are human grade and come in maple bacon or beef flavors. Private label and customization options are available.
---
Original Press Release:
Tru Body Wellness Announces New Pet Supplements Product Line
October 2018
Tru Body Wellness is pleased to announce the addition of pet supplements to its health and wellness supplement and product offerings.
The new pet supplement line focuses on complete pet health, hip and joint care, and hair skin and nails. Each of Tru Body Wellness's supplements host a potent mix of herbal ingredients and proprietary blends to keep pets looking and feeling their best from the inside out.
Don Wiencek, President, noted, "Pet Supplements are a new area for us. It is clear that pets have become part of the family and we are happy to provide supplements that can help their pets live happier, healthier lives."
Each of Tru Body Wellness's pet supplements offer:
Total body health support*
Provides a variety of essential vitamins & minerals*
Helps fill nutritional gaps*
Made with human grade ingredients 
Maple bacon and beef flavored chewable tablets that your pet will love 
Clients can private label these supplements starting at low quantities of 100 bottles. Customization options are available starting at 1500 bottles. 
To learn more, visit our web site at www.trubodywellness.com,  call 877- 419- 4004 or email at Sales@TruBodyWellness.com.
About Tru Body Wellness
Tru Body Wellness specializes in private labeling supplements. Minimum orders of standard products start at only 100 bottles. Tru Body Wellness can design clients' labels for free. Additionally, Tru Body Wellness can also provide custom formulas starting at an industry low 500 bottles for capsules and 1500 bottles for tablets, liquids and powders. For stock product, Tru Body Wellness can typically ship from stock within 3 business days once label designs are finalized. All Tru Body Wellness products are made in FDA inspected and cGMP certified facilities in the US.
*These statements have not been evaluated by the Food and Drug Administration. This product is not intended to diagnose, treat, cure or prevent any disease.
Copyright 2018 Tru Body Wellness
More from Materials