Tru Body Wellness Now Offers Beauty & Personal Care Options!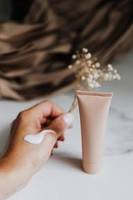 Tru Body Wellness has partnered with beauty and personal care experts to offer you customized topicals to expand your product offering.  We can assist you with your formula, label design and packaging.  Give us a call to discuss your unique idea!
Don Wiencek, President, commented saying, "According to industry experts, the beauty and personal care market is growing exponentially as consumers seek additional ways to fight the aging process, slow the appearance of age-related physical changes, and look their ultimate best. A natural addition to nutritional supplements, adding topical products is a great way to grow your customer base, expand sales and grow your brand."
Tru Body Wellness's custom topical beauty & personal care solutions include, but are not limited to the following options:
Facial Serums
Hand and Body Lotions
Facial Creams
Beard Oils
Shave Creams
Shave Oils
Clients can create their own beauty or personal care topical product for only 1,500 units. To learn more please email us at Sales@TruBodyWellness.com or call (877) 419-4004.
About Tru Body Wellness
Tru Body Wellness specializes in private labeling nutritional supplements. Minimum orders of stocked products start at only 100 bottles and includes one free label design per product. Additionally, custom supplement formulas are offered starting at an industry low of 500 bottles for capsules, 1,500 bottles for liquids, and 2,000 bottles for tablets and powders. Customized beauty and personal care minimum order quantities begin at 1500 units.
All products are made in FDA inspected and cGMP certified facilities in the US.
Please visit www.TruBodyWellness.com for more information.
Related