Trommel-Based System speeds sortation of recyclable material.
Press Release Summary: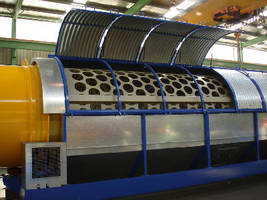 Consisting of trommel and associated conveyor systems, custom Waste Handling System almost completely eliminates manual intervention. Used for primary sortation of co-mingled products, 2-stage trommel sorts beverage containers such as plastic, glass, and ferrous items. Stage 1 uses small diameter holes in screens to take fines out of system, while Stage 2 has larger diameter holes to separate containers and paper. Any paper/cardboard product in mix is conveyed away to secondary sorting system.
---
Original Press Release:

Turnkey Retrofit Upgrades Waste Sortation with Modern Automation



A materials handling specialist for the waste sortation sector has developed a systemised solution for speeding up sortation of all types of recyclable material collected by council garbage services.

Industrial Conveying (Aust) Pty Ltd, a national materials handling specialist and successful exporter, uses at the core of its solutions a component responsible for automatic sortation of primary, co-mingled product to save council depots and regional recyclers time and money.

This component is known as a 'trommel' - a two-stage self contained unit for automated primary sortation of the co-mingled product.

Both the trommel and associated conveyor systems are custom-designed and manufactured at Industrial Conveying's plant in Bendigo, Victoria.

As a general outcome, a trommel-based system predominantly using conveyors and controls is expected to almost completely eliminate manual intervention.

Managing Director of Industrial Conveying, Mr Don Erskine, says custom designing a waste handling solution is of utmost importance as often the challenge will be to retrofit to an existing site, so space constraints can sometimes be tight.

"Almost always, a plant upgrade is a greater challenge than our client first expects because waste throughputs are always likely to increase due to population growth in all areas of Australia," said Mr Erskine.

"We have proven already that we have the capability to strip an old plant and put in a highly-automated new system that fits within the footprint of an existing building.

"This is even more important when a building that houses a waste sortation system is under lease (this is common), so our client's management would need to avoid any changes to the existing structure."

Used for primary sortation of co-mingled products, the trommel on which the waste handling solutions are based sorts beverage containers such as plastic, glass and ferrous items (aluminium cans and steel cans). It has two grades of screens and is 10 m long x 2m diameter.

Although it depends on each unique installation, the trammel nominally would have two stages of processing that involve different screening processes and work as follows:

Stage 1 - fines separation: Using small diameter holes in the screens, stage 1 takes fines out of the system - items such as tiny bits of broken glass and bottle tops - and allows the recyclables to continue on to stage 2.

Stage 2 - separating beverage containers and paper - has larger diameter holes in its screen which allows these beverage products to drop through whereas any paper/cardboard product in the mix is conveyed away to a secondary sorting system. This includes paper-based product such as newspapers, magazines and catalogues as well as some cardboard.

The trommel is a highly effective primary sorter, however a small amount of carry-through paper is always likely to come through so at this point all product that may drop through the stage 2 screen of the trommel is deposited onto a 'bounce adherence' conveyor to find this paper and move it to the main paper stream where it belongs.

This bounce adherence conveyor belt oscillates up and down to make the paper and cardboard products grip, thus moving them up along the conveyor while the remaining beverage container waste travels downwards with gravity.

All paper product taken up by the adherence bounce conveyor again joins with the main paper stream.

Product discharged from the bottom of the bounce adherence conveyor gets sorted and separated as glass, steel, aluminium and plastic.

An air separation system picks up plastic product while the heavier products such as glass do not get picked up by this.


More from Electrical Equipment & Systems