Trolley Rail System aids heavy goods transport.
Press Release Summary: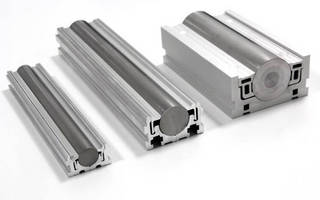 Intended for transporting heavy loads, RoundTrack® 60 accommodates needs of manufacturers from various industry sectors. System features 60 mm rail diameter and carries up to 15 tons per wheel; trolley with 4 double-wheel sets can move loads up to 120 tons. Rails vanish almost completely in shop floor and can be crossed with small wheel pallet trucks. Transport trolleys can be pushed or driven with minimal energy and simultaneously serve as mobile work stations.
---
Original Press Release:
Efficient Intra-Logistics Solution for Heavy Goods: RoundTrack® 60 Supports Bigger Loads per Wheel
Schloss Holte-Stukenbrock, Germany — The intra-logistics expert STROTHMANN Machines & Handling expands its RoundTrack® program, adding a new, larger system with a 60 mm rail diameter. Manufacturers from various industry sectors had requested such a solution for the transportation of heavy loads. RoundTrack® 60 carries up to 15 tons per wheel. A trolley with four double-wheel sets can therefore move loads up to 120 tons. As with the existing RoundTrack® 25 and 40 sizes, the rails vanish almost completely in the shop floor and can easily be crossed with small wheel pallet trucks. STROTHMANN does not only offer the system components but also plans and implements entire flow production lines on their basis. Featuring transport trolleys that can be pushed or driven with little energy and which simultaneously serve as mobile work stations, the RoundTrack® system has many advantages over pallet trucks or overhead cranes. Completed projects include transport solutions for aircraft stabilizers, pipeline pipes, and various kinds of machines.

Company Background
Based in Schloss Holte-Stukenbrock, Germany, STROTHMANN Machines & Handling GmbH provides automation solutions for mechanical engineering, automotive industry, aircraft assembly, wind energy industry, and other sectors. With a service range that includes the branches PressRoomAutomation, IndustrialAutomation, and ProductionLogistics, STROTHMANN develops and integrates entire new press lines and assembly lines as well as modernization projects in order to optimize production processes throughout the value added chain. Founded in 1976, the company offers a comprehensive program of handling technologies with a special focus on linear robots. STROTHMANN's RoundTrack© technology, a rail system suitable for the shop floor, enables ideal logistics solutions particularly in heavy load applications. STROTHMANN belongs to the Siempelkamp Group and has sales partners on three continents, sales and service offices in North and South America, and a subsidiary in China.

Contact:
STROTHMANN
Machines & Handling GmbH
North America Division
Donnie McCook
200 N. Cobb Parkway Suite 302
Marietta, GA
USA
Tel.: +1 . 770 . 424-4141
Fax: +1 . 770 . 424-4988
e-mail: d.mccook@strothmann.com
Internet: www.strothmann.com
Related