Trochoidal Carbide End Mills are TiN/TiALN or ALCR coated.
Press Release Summary: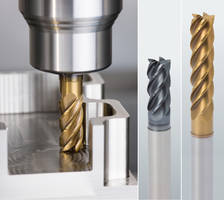 Offering quicker metal removal rates and axial depth of cut of up to 4XD, Trochoidal Carbide End Mills come with low vibration characteristics such as variable spacing and variable helix angles. Featuring chip breaker geometry, units are available in Jet-Cut™ and Coolant-Through TiNox-Cut™ cutting geometries. Suitable for roughing operation of inconel, titanium and stainless steel materials, products come with flute length/diameter ratios of 2:1, 3:1 and 4:1.
---
Original Press Release:
Emuge Introduces Line of End Mills for Trochoidal Milling
New end mills feature unique geometry and chip breakers for exceptional performance in trochoidal milling.
Today Emuge Corp. (www.emuge.com) has announced the introduction of a new line of solid carbide end mills with unique geometry and chip breakers designed specifically for trochoidal milling. Emuge's new Trochoidal End Mills provide increased metal removal rates (MRR) of over 30%, fewer tool paths and longer tool life, while enabling a high axial depth of cut of up to 4XD. The Trochoidal end mill series was developed specifically for advanced milling strategies available in modern CAM software to optimize the calculation of milling paths and avoid unproductive tool motion.
Trochoidal milling is a relatively new cutting strategy growing in use, that involves the overlapping of circular cutting paths with linear movement and is especially suitable for difficult to machine materials and thin-walled components. The small contact angle on the tool reduces heat generation during machining and promotes less thermal stress increasing tool life. The end mill is fully utilized over the entire flute length, resulting in wear that is evenly spaced over the full cutting edge, which also contributes to longer tool life. In addition, high MRR can be generated even on low-powered machines and wear is reduced during full slot milling.
Emuge Trochoidal End Mills feature low vibration characteristics such as variable spacing, variable helix angles and improved micro-geometries, along with new high performance coatings of TiN/TiALN or ALCR and a sub-micro grain carbide substrate. In addition, the newly developed chip breaker geometry reduces axial pull-out force and minimizes the risk of chip build up in pockets, since the resulting smaller chips can be easily removed with compressed air or coolant.
Emuge Trochoidal End Mills are available in two cutting geometries: Jet-Cut™ for both roughing and finishing in steel applications, and Coolant-Through TiNox-Cut™ for process-reliable roughing in tough materials such as Inconel, Titanium and Stainless Steel. Standard and long-length rougher/finishers with flute length/diameter ratios of 2:1, 3:1 and 4:1 are available for applications in a wide range of materials.
Emuge Corp. is a wholly owned subsidiary of the 1,500+ employee German company EMUGE-Werk Richard Glimpel GmbH & Co. KG (Lauf, Germany) that has been the product technology and performance leader in their field for nearly 100 years. The company manufactures an extensive line of taps, thread mills, drills, end mills, toolholders, clamping devices and other rotary cutting tools, over 100,000 items sold through distributors worldwide. Emuge also offers end-user technical support through a network of in-the-field engineers and in-house product specialists, all with extensive tooling and application experience.
Over 10,000 types of cutting tools and accessories are stocked in the company's U.S. and Canadian Headquarters located in West Boylston, MA, U.S.A. The 21,000 square foot state-of-the-art facility includes a new technology center with a machining and tooling demonstration showroom and classroom, tool reconditioning manufacturing, warehouse, sales, support and administrative offices. 
Contact:
Bob Helling
Emuge Corp.
Century Drive
West Boylston, MA 01583-2121
Phone: 508-595-3600
Email: bob.hellinger@emuge.com
Url: www.emuge.com
More from Packaging Products & Equipment