TRITON M7 Inspection Camera features built-in 512 Hz beacons.
Press Release Summary: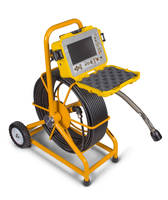 TRITON M7 Inspection Camera's head comes in 1.23 in., 1.36 in., 1.4 in., and 1.68 in. sizes and is offered in straight view or a self-levelling options. Unit is suitable for drains, ducts, swimming pools and hot tubs applications. Product's head is made of heavy-duty stainless steel and comes with anti-scratch sapphire lenses. Inspection camera is equipped with spiral wound push cable in 100 ft and 200 ft length options and offers real time transmission of recordable data to the smartphone.
---
Original Press Release:
Pipe Camera TRITON M7: New Fully Portable Inspection System
Fiberscope.net has added a new model to its sewer pipe camera product line. The TRITON M7 inspection system stands out among other tools of the same product line as well as among the competition. The principal feature that sets this camera apart from most other similar tools is its impressive versatility. Basically, the TRITON M7 is a modular system which can be customized depending on specific needs and applications. For instance, the range of camera heads to chooses from includes 1.23", 1.36", 1.4" and 1.68". As if that weren't enough, users can choose a straight view or a self-levelling camera head. While the smallest size head is able to crawl through 90 degree bends in 1.5" pipes, the largest size is good for pipes up to 8", thus covering most residential and a good deal of industrial sewer piping. Regardless of the size, all camera heads are made of solid, heavy-duty stainless steel and equipped with anti-scratch sapphire lenses. Needless to say, all the camera heads are waterproof. In addition, they include built-in 512 Hz beacons that interact with any standard locating wand of the same frequency.
The premium spiral wound push cable is likewise customizable, presenting two length options, 100 feet (30.5 meters) and 200 feet (61 meters). The cable rests on a powder coated steel frame. The DVR is furnished with an oversize 7.4" color display. The photos and video files captured during inspections are saved via USB interface to a memory stick or directly to a computer hard drive, thus putting no limit on the volume of recordings. Another innovative feature of the TRITON M7 pipe camera is a WiFi module which permits real time transmission of recordable data to a smartphone or a tablet via a specially designed application, which significantly facilitates data sharing.
This Canadian made inspection tool is particularly designed for a wide variety of applications, such as drains, lateral lines, ducts, heat exchangers, swimming pools and hot tubs, to name just the principal ones. The TRITON M7 pipe camera easily catches the eye not only due to its outstanding versatility, but also thanks to its affordable price given the level of reliability and overall quality the whole line is well known for.
To learn more or purchase the system go to http://www.fiberscope.net/pipe-inspection-camera-triton-m7.html
More from Optics & Photonics