Trimming Potentiometers feature 0.5 W power rating at +85°C.
Press Release Summary: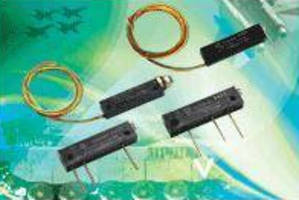 Designed to meet and exceed requirements of MIL-PRF-22097, Char. F, Bulk Metal® Foil Accutrim(TM) 1202 Potentiometers have multi-fingered, noble metal wiper traversing planar surface of etched foil. Units feature end-to-end TCR of ±10 ppm/°C and ±25 ppm/°C through wiper, load life stability of 0.1%, and less than 0.05% settability. Offering infinite resolution, potentiometer features resistance range from 2 W to 20 kW and resistance tolerance from ±5%.
---
Original Press Release:

Vishay's New 1202 Series of Bulk Metal® Foil Ultra-High-Precision Accutrim(TM) Trimming Potentiometers



Features Low End-to-End TCR of ± 10 ppm/°C and ± 25 ppm/°C Through the Wiper, Load Life Stability of 0.1 %, < 0.05 % Settability, and a Smooth and Unidirectional Output With Leadscrew Adjustment

Approved 1 ¼-in Rectilinear RJ12-Style Devices Designed to Meet and Exceed Requirements of MIL-PRF-22097, Char. F

MALVERN, Pa. - May 15, 2009 - Vishay Intertechnology, Inc. (NYSE: VSH) today announced a new series of Bulk Metal® Foil ultra-high-precision Accutrim(TM) trimming potentiometers, approved 1-¼ in. rectilinear RJ12 style, designed to meet and exceed the requirements of MIL-PRF-22097 Char. F. For precise adjustment, the devices offer low end-to-end TCR of ± 10 ppm/°C from - 55 °C to + 150 °C, + 25 °C ref., and ± 25 ppm/°C through the wiper, load life stability of 0.1 % typical under full rated power at + 85 °C for 2000 hours, and a < 0.05 % typical settability.

Vishay's new 1202 series of ultra-high-precision trimmers features a Bulk Metal Foil resistive element that possesses a unique inherent temperature and load life stability. Their advanced, virtually backlash-free (< 0.05 %) adjustment mechanism makes them easy to set quickly and accurately, and maintains that setting through temperature cycling and vibration, as well as thermal and mechanical shock.

The devices offer a multi-fingered, noble metal wiper traversing a planar surface of etched Foil for low TCR end-to-end and through the wiper. Other technologies, such as wirewound and cermet trimmers, have a fair TCR end-to-end, but cannot be relied upon to demonstrate an acceptable TCR through the wiper, which is an important element in the precise adjustment of circuits subject to temperature fluctuations.

In addition to their low TCR and excellent load life stability, the 1202 trimmers feature a 0.1 % typical setting stability, a wide resistance range from 2 W to 20 kW, and a resistance tolerance from ± 5 %. The devices offer a 0.5-W power rating at + 85 °C and 25 ± 2-turn adjustments. Withstanding electrostatic discharges up to 25 kV, the trimmers have excellent ESD immunity for greater reliability.

The 1202 series offers infinite resolution, which when synthesized by a combination of an absolutely uniform resistance material, multiple wiper contact points, and multiple resistance circuit paths, yields a uniquely accurate settability of less than < 0.05 %. This settability eliminates the loss of expensive technician time, which often exceeds the cost of the trimmer itself, while trying to set trimmers or balance circuits. There are no turns of wire to be traversed, causing a step function, and no contact resistance variation to cause an irregular change in resistance with mechanical adjustment.

The trimmers feature an "O"-ring to prevent ingress of fluids during any board cleaning operation. The devices offer gold-plated terminations with tin/lead terminations available on request. Special available options include 45-turn adjusting screws, special length for lead wires (L, LB style), hooked leads, alternate bushing and PC pin combinations, burn-in and screening operations, and special markings.
Because of the stability and linearity of the Foil trimmer, it is not necessary to use a buffering resistor in series with the trimmer or a linearizing resistor in parallel with the trimmer. The low values available in Foil trimmers are uniquely linear, making them suitable for end-to- wiper circuit use, which is not normally recommended.
Samples and production quantities of the new 1202 series devices are available now, with lead times from four weeks.

Vishay Intertechnology, Inc., a Fortune 1,000 Company listed on the NYSE (VSH), is one of the world's largest manufacturers of discrete semiconductors (diodes, rectifiers, MOSFETs, optoelectronics, and selected ICs) and passive electronic components (resistors, capacitors, inductors, sensors, and transducers). These components are used in virtually all types of electronic devices and equipment, in the industrial, computing, automotive, consumer, telecommunications, military, aerospace, and medical markets. Its product innovations, successful acquisition strategy, and "one-stop shop" service have made Vishay a global industry leader. Vishay can be found on the Internet at www.vishay.com.

Bulk Metal is a registered trademark of Vishay Intertechnology, Inc

More from Mounting & Attaching Products