Trimmable Backlighting Kit accelerates display prototyping.
Press Release Summary: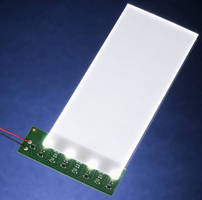 Along with 0.45 or 0.3 mm thin, 6 x 11 in., Clad Flat Fiber™ (CFF) flexible optical sheets, Cut-2-Size™ Backlighting Kits include PCB with 8 white, side-fire LEDs that can be powered by 9 Vdc supply. Polycarbonate panels can be cut into any shape or size using such standard cutting tools as scissors or knife. LED board can also be cut in order to create 2 separate boards, and adhesive strip on circuit board stabilizes transition edge while also promoting coupling of light guide panel.
---
Original Press Release:
Lumitex Introduces Innovative, First-Ever, Cut-2-Size(TM) Backlighting Kit
Includes Cuttable, Clad Flat Fiber™ Panels and Printed Circuit Board with LED lights for Fast, Low Cost, Prototype/Small Volume Backlighting in Minutes

Strongsville, Ohio – The leader in thin, engineered lighting solutions  today announced the availability of its first-ever, innovative Cut-2-Size™ Backlighting Kit. Created for design engineers who need quick prototype backlighting for membrane switches, keypads, overlays, LCDs or other graphics displays, the Cut-2-Size Backlighting Kit is available from Lumitex.  It can also be used for fast-turn, small volume production.

Requiring no tooling or non-recurring engineering (NRE), the Cut-2-Size Kits include either 0.45mm or 0.3mm thin, 6" x 11", Clad Flat Fiber™ (CFF) flexible optical sheets; and printed circuit boards with eight, white side-fire LEDs that can be powered by a standard 9VDC supply. The polycarbonate panels can be easily cut into any shape or size using standard cutting tools such as scissors or a knife. The LED board can also be cut, creating two separate boards. An adhesive strip on the circuit board acts to stabilize the transition edge and allow better coupling of the light guide panel.

"These Cut-2-Size panels with integrated back reflectors use Lumitex's patented light extraction method, distributing photons across the surface of the panel to achieve a uniform, integrated light without heat, surface electricity or EMI." said Mark Darby, Vice President of Electronics Sales.

"Advanced lighting technology in easy-to-use, Cut-2-Size panels makes it simpler and faster for designers to light their prototypes, giving their customers a better idea of what the final product will look like and how it might function." Darby said.

"The rapid prototyping and small volume production capabilities of Cut-2-Size Backlighting will speed customer decisions, bringing new products with better lighting to market sooner in automotive, medical, electronics, and instrumentation markets," Darby noted. "Once prototyped, projects can be optimized with a custom optical solution. Lumitex works closely with engineering teams to develop the best integrated lighting solution for higher volume or more complex applications."

Clad Flat Fiber technology offers high brightness and requires less power than LED arrays and most LED light guides. It also provides consistent performance in hazardous environments, withstanding a wide temperature range, high humidity, shock and vibration.

For more information or to purchase a Cut-2-Size Backlighting Kit, contact Lumitex Sales at 440-973-0359, email info@lumitex.com, or visit http://www.lumitex.com/cut-2-size.

About Lumitex, Inc.: Lumitex designs, develops and manufactures custom and off-the-shelf electronics backlighting, fiber optic devices, and surgical and phototherapy lighting systems using patented and patent-pending technology. Lumitex solutions provide bright, uniform lighting without heat, surface electricity or EMI and are certified to MDD, UL and CSA standards as required. Located in Strongsville, Ohio, the company is ISO 9001 and ISO 13485 certified and operates to U.S. FDA Good Manufacturing Practices and Standards.
More from Fluid & Gas Flow Equipment