TriGrip's Carbide Gripper Inserts and TriMax's Vises designed in G, C, M and T variations.
Press Release Summary: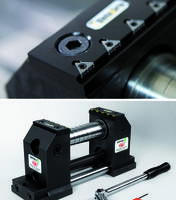 Preventing use of dovetailing workpieces and vibration dampening, Carbide Gripper Inserts makes holding secure at low clamping forces. At 3.5mm of clamp surface and 0.14 in. clamping, triangular gripper has 2 rows of teeth at different angles with 5° taper. Allowing multiple part clamping, quick change components and easy adjustments, Vises can hold workpieces up to 7.87 in. length and deliver more than 8,900lb of clamping force.
---
Original Press Release:
New Low-Profile Gripper Insert and Vise Provide Excellent Holding Power in Workholding Applications
Fixtureworks® (Fraser, MI), a leading supplier of clamps, fixturing accessories, machine tool and material handling products, has introduced its lineup of ultra-low profile TriGrip™ carbide gripper inserts and TriMax™ vises.
TriGrip™ carbide gripper inserts are designed for ultra-low profile 0.14 in. (3.5 mm) clamping with no dovetail workpiece preparation. These patented triangular grippers feature two rows of teeth at different angles with a 5 degree taper to maximize the pull-down effect, divide the clamping force, absorb vibration and allow for high stability and secure workholding. Already integrated with the TriMax line of vises, the TriGrip inserts are ideal for upgrading existing vise jaws and more.
With only 3.5mm of clamp surface needed to securely hold the workpiece, TriGrip workholding inserts are ideal for 5-axis machining operations. These durable inserts combine a tough-coated cemented carbide with specialized teeth and triangular shapes that penetrate materials including steel, hardened steel/titanium (up to 50-54 HRC) and aluminum.
TriGrip workholding inserts offer advantages over traditional clamping systems including exceptional clamping stability, no need for pre-machining or dovetailing workpieces, vibration dampening and allowing for very secure holding at lower clamping forces. This results in a higher cutting rate and less waste of materials than traditional clamping systems.
TriMax™ production vises help maximize a machine's potential with multiple part clamping, quick change components and easy adjustment. The series of vises includes:
The TriMax G vise is designed for high precision 5-axis machine milling operations and can hold workpieces up to 7.87 in. (200 mm) in length. The vise allows for machining on five sides with just one clamping operation to provide dimensional stability, rigidity and durability for maximum cutting force and long life. TriMax G vises deliver up to-more 8,900 lb. of clamping force.
Designed to hold up to four workpieces at a time, TriMax C series of vises is a modular system with movable jaws that can be positioned along the vise body to handle a wide range of workpieces. Jaws and supports for TriMax C vises are available in three different widths: 38, 60 or 90mm. Four base lengths are available in 250, 400, 500 and 630mm sizes.
The TriMax T Series of vises is a complete multi-part clamping system. Made to clamp up to four workpieces at a time, multiple movable jaw sets can be positioned along the vise base. TriMax T vises are available in widths of either 60 or 90mm. Three base lengths are available: 400, 500 and 630mm.
Improving on the standard machinist vise, the TriMax M system maximizes workholding combinations with minimal investment in equipment. TriMax M bases are offered in various lengths from 415mm to 878mm. A patented system allows for quick and easy repositioning of the clamping jaws, and for quick "snap-in" change of parallels, soft jaws and v-jaws.
In addition to the TriGrip and TriMax lineup of workholding components Fixtureworks supplies a full line of fixturing accessories including grippers, GP Series rubber gripper pads, rest pads, Swivots® swivel/pivoting positioning components, Quick Release ball-lock pins, rollers and bumpers and Urethane Covered Bearing Rollers. As well as a full lineup of manual clamps, spring plungers, rest and riser pads, levers, handles, knobs, and hand wheels, supports and stops, risers, T-nuts, sliding mounts, springs, supports, grid plates and columns, and a wide range of quick change precision locating and mounting systems.    
For further editorial information, contact:
33792 Doreka
Fraser, MI 48026.
Tel: 586.294.1188
Toll Free: 888-794-8687         
More from Electrical Equipment & Systems