Trigger and Decode Software debugs MIL-STD-1553 protocol bus.
Press Release Summary: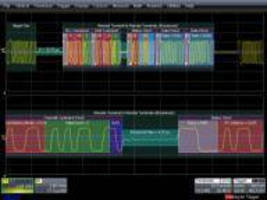 Available for WaveSurfer Xs/Xs-A, WaveRunner Xi/Xi-A, WavePro 7 Zi, and WaveMaster 8 Zi oscilloscopes, 1553 TD provides transfer level view to enable understanding of messaging and timing, or word level view to debug at individual bit level. Color-coded overlays on various sections of protocol decode are used for visual display. In addition, decode information condenses or expands depending on timebase/zoom ratio setting, simplifying routine verification and complex troubleshooting.
---
Original Press Release:

LeCroy Introduces Trigger and Decode Package for MIL-STD-1553



The Only MIL-STD-1553 Trigger and Decode Package Available for Oscilloscopes with Both Protocol and Physical Layer Views

CHESTNUT RIDGE, N.Y., -- LeCroy Corporation's new 1553 TD (trigger and decode) package provides all the tools needed to analyze and debug the MIL-STD-1553 protocol bus. Immediately available for the WaveSurfer Xs/Xs-A, WaveRunner Xi/Xi-A, WavePro 7 Zi and WaveMaster 8 Zi oscilloscopes, LeCroy's 1553 TD decode provides both a transfer level view to enable a higher level understanding of messaging and timing, or a word level view to debug at the individual bit level. Traditional MIL-STD-1553 debug tools only show the messages in a text file without providing a view of the waveform to truly understand the signal behavior. LeCroy's 1553 TD solution provides both the protocol analyzer view with the table view, and the oscilloscope view to debug on the physical layer signal.

Color-coded overlays on various sections of the protocol decode are used by 1553 TD for a visual display that is easy to understand. This feature, exclusive to LeCroy, is intuitive for experienced engineers; and especially useful for users new to the MIL-STD-1553 standard. In addition, decode information condenses or expands depending on the timebase/zoom ratio setting, simplifying both routine verification and complex troubleshooting. Engineers can choose to decode into Hex and Binary.

The 1553 TD trigger can be configured for both transfer level and word level messaging. In addition, the 1553 TD trigger solution provides tools to isolate specific errors in the protocol to quickly pinpoint the area causing the most problems. A timing trigger mode allows the user to quickly find timing violations of both the intermessage gap time (IMG) or the response time between a BC and RT, or from a RT to another RT. The 1553 TD trigger solutions help to isolate rare problems not easily detected by viewing decoded data alone or by viewing the data with a bus analyzer. In addition, 1553 TD turns the oscilloscope into a protocol analyzer with a customizable table display or protocol information which can be exported as an Excel file.

About MIL-STD-1553

MIL-STD-1553 standard was first developed by the Air Force in 1973 for use in the F-16 fighter aircraft. Its primary use is still in legacy avionics but it has expanded to work on prototype passenger cars, oil platforms, subway control systems, and the International Space Station.

Engineers and technicians who would like to know more can contact LeCroy at 1-800-5LeCroy (1-800-553-2769) or visit www.lecroy.com

About LeCroy

LeCroy Corporation is a worldwide leader in serial data test solutions, creating advanced instruments that drive product innovation by quickly measuring, analyzing, and verifying complex electronic signals. The Company offers high-performance oscilloscopes, serial data analyzers, and global communications protocol test solutions used by design engineers in the computer and semiconductor, data storage device, automotive and industrial, and military and aerospace markets. LeCroy's 45-year heritage of technical innovation is the foundation for its recognized leadership in "WaveShape Analysis"--capturing, viewing, and measuring the high-speed signals that drive today's information and communications technologies. LeCroy is headquartered in Chestnut Ridge, New York. Company information is available at www.lecroy.com/.

© 2010 by LeCroy Corporation. All rights reserved. Specifications are subject to change without notice.

CONTACT: Editors' Technical contact, Bill Driver - Product Marketing Manager, +1-845-425-2000; Customer contact, LeCroy Customer Care Center, 1-800-553-2769

Web Site: www.lecroy.com/

More from Electronic Components & Devices