Triaxial DC Accelerometers offer low noise, long-term stability.
Press Release Summary: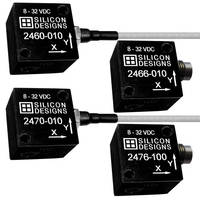 Integrated plug-and-play models 2460 and 2466 are operationally identical to models 2470 and 2476, which add initial calibration certificates, reduced bias, and improved scale factor temperature shift specifications. All modles incorporate 3 orthogonally mounted, single-axis accelerometers into epoxy-sealed, anodized aluminum case. Standard ranges are ±2 to ±400 g, and ±4 V differential or 0.5–4.5 V single-ended output is available. Modules respond to both AC and DC acceleration (DC–2,000 Hz).
---
Original Press Release:

Silicon Designs to Introduce Four New Low-Cost and High-Performance Triaxial DC Accelerometer Families at Sensors Expo 2016



FOR IMMEDIATE RELEASE – Kirkland, Washington, USA – Silicon Designs, Inc. (SDI) (www.silicondesigns.com), a 100% veteran owned leading designer and manufacturer of industrial grade MEMS variable capacitance accelerometer chips and modules, today announced that it will be introducing four new low-cost and high-performance triaxial DC accelerometer families as an exhibitor at Sensors Expo, June 21-23, 2016, at the McEnery Convention Center in San Jose, California, USA.



Triaxial DC accelerometer modules from Silicon Designs are low-cost, integrated plug-and-play vibration measurement devices. Each series is suitable for zero-to-medium frequency commercial and industrial applications, and particularly, where performance reliability, low noise, and long-term stability are absolute requirements. Newly redesigned SDI models 2460 and 2466 offer reliable performance, extremely low noise and long-term stability at a low cost. In addition, Models 2470 and 2476 are operationally identical to those of the 2460 and 2466, with the added inclusion of initial calibration certificates, greatly reduced bias and improved scale factor temperature shift specifications. Small-to-medium sized quantities are available for immediate customer delivery from stock, with larger volumes typically available within two to four weeks. Expedited lead times may also be available upon request.  Please consult the factory for details.



All SDI MEMS triaxial accelerometer modules offer highly reliable and cost-effective acceleration and vibration sensing. Their designs incorporate three orthogonally mounted low-noise single axis accelerometers into a single rugged, epoxy sealed anodized aluminum case. They are offered in standard ranges from ±2 to ±400 g and with choice of ±4V differential or 0.5V to 4.5V single ended output. Low-impedance outputs support up to 2000 feet of cable. Units feature a simple eight-wire connection, and respond to both AC and DC acceleration (DC to 2000 Hz). Onboard voltage regulation and an internal voltage reference eliminate the need for precision power supplies. They are also relatively insensitive to temperature changes and gradients, and operate over a standard temperature range of -55°C to +125°C.



Based outside of Seattle, Washington, USA, Silicon Designs specializes in the design, development and manufacture of high-reliability MEMS variable capacitive chips and accelerometers. All products are 100% made in the USA. Carefully regulated manufacturing processes ensure that each sensor is made to be virtually identical, allowing users to swap out parts in the same g range with few to no testing modifications, further saving time and resources.  This also provides test engineers with a quick plug-and-play solution for almost any application, with total trust in sensor accuracy when used within published specifications. As the OEM of its own MEMS VC accelerometer chips and modules, Silicon Designs is able to ensure quality, offer custom design, and still keep prices highly competitive. Standard MEMS variable capacitive accelerometers are available with full-scale sensitivities from 2 g to 1,000 g. Within the standard range (2 to 400 g), most Silicon Designs MEMS accelerometers can continue to operate within specification after sustained exposures of up to 5,000 g and limited exposure to temperatures to +150°C.



Silicon Designs triaxial variable capacitance accelerometers support a wide range of applications, including UAV inertial measurements, robotics, seismic studies, crash event detection, missile launches, downhole vibration, automotive testing, motorsport, shipping container monitoring, airplane flutter testing, turbine engine precession, and civil structural integrity monitoring. For more information, visit www.silicondesigns.com.

More from Fasteners & Hardware