Tri-Band Receiver Module offers personal audio recording.
Press Release Summary: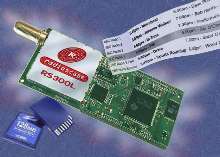 Based on TMS320DRE310 DSP, RadioScape RS300L(TM) enables receivers to be built with Band III and L-band Eureka 147 DAB, integral FM, and RDS. It provides multi-channel decode, Electronic Progam Guide on color display, pause and rewind of live broadcasts, and recording to removable memory. Service Linking enables radio to automatically move to associated station when original goes out of range. USB connection enables audio to be transferred to PC using MP2 format.
---
Original Press Release:

Radioscape Announces The RS300L - World's Most Powerful And Advanced Tri-Band DAB Receiver Module


First DAB module design for Personal Audio Recording

London, UK - 12 July 2004 - RadioScape is continuing to pioneer the DAB receiver market with the announcement of a new family of DAB modules with a raft of new and innovative features that further differentiate DAB from traditional analogue radios. RadioScape's module solutions are proving very popular with manufacturers as RadioScape has addressed all the complexities of designing and manufacturing a digital radio receiver and ensured that the RF is optimised for maximum reception.

The first in the series is the RadioScape RS300L(TM). This module enables receivers to be built with Band III and L-band Eureka 147 DAB, integral FM, and RDS with the innovative features of multi-channel decode, Electronic Programme Guide on a colour display, pause and rewind of live broadcasts, and recording to removable memory. The module will be available from August 2004 enabling it to be used as the basis for DAB radios targeted for the Christmas 2004 market.

"Many of the things that have made Digital TV an exciting and must have product can now be built into the next generation of DAB receivers that are based on our new module and will give another major boost to the take up of DAB radios," explained Nigel Oakley, Vice President of Marketing at RadioScape. "The most interesting is that large colour displays can be incorporated that will show an Electronic Program Guide (EPG) of stations and their programme schedules - rather like a Satellite TV display. As these modules also support a Record feature, you can instruct the receiver in advance using the EPG to record selected programmes for later listening - making this the first DAB module for Personal Audio Recording."

As with the highly successful, RadioScape RS200(TM) family of modules, which have enjoyed rapid market acceptance over the past year with continually increasing market share, this new module uses RadioScape's unique solution of software running on a TI DSP -- in this case, the new TMS320DRE310. This gives much greater flexibility than rival designs that are based on "hardwired" ASICs that requires a time-consuming and expensive hardware spin for every change. RadioScape's software-defined approach enables the company to rapidly implement new features and enhancements through software, ensuring that its products are always innovative and at the leading edge.

It also means that any software that has been written for an application based on one module can be easily ported to another. This is particularly useful when upgrading from RadioScape's DRE200-based modules to more powerful DRE310-based modules as it protects software investment and saves the time that would otherwise have to be spent re-writing and testing the code.

The RadioScape module has several additional innovative new features. It can process three DAB channels on one multiplex simultaneously, which enables one audio channel to be listened to, record another while also decoding a data channel that contains, say, travel or news information. Another important feature for mobile applications is Service Linking that enables the radio to automatically move to an associated station when the original goes out of range, or off-air using linking information provided by the broadcaster. This linking can be either from one local DAB station to another or from one DAB station to an associated FM station.

"The increased processing performance and features of the DRE310 create a platform that can be used to create the next generation of DAB receivers. New DAB receivers will be packed with compelling features that excite even more consumers, further boosting DAB's appeal over analogue," said Les Mable, Business Development Manager for Digital Radio, Texas Instruments. "DAB radio manufacturers will find the flexibility provided by this software-based solution very attractive as it enables a wide range of differentiated products to be created based on the same RS300L module."

The RadioScape RS300L module provides Band III and L-band DAB with integral FM and RDS. The Record feature supports any size of MMC and SD removable memory cards using the FAT16 file format. The USB connection is available which enables audio to be transferred to a PC using MP2 format as well as enabling the PC to control the receiver if required and even update or load new software onto RS300L-based receivers making them future-proof. The highly popular features from existing modules, such as Rewind and real-time Pause, are included as are integral Clock, Snooze, Buzzer, and multiple Alarms. I2C and SPI interfaces enable this module to be used within hi-fi systems, PC-based home entertainment set-ups, as well as kitchen radios, boom-boxes and clock radios.

Priced in the region of $40, depending on volume and features, samples will be available in July 2004 with volume shipments commencing in August 2004. It measures 110mm by 44mm by 15mm, consumes typically 2.5W and requires a power supply of 5V. It requires only the addition of a power supply, display, amplifier, buttons, aerial, speakers and a case to create a fully functioning DAB receiver, enabling the design to manufacture time to be reduced from months to weeks.

About RadioScape
RadioScape Ltd. is one of the world leaders in Software Defined(tm) solutions for Digital Radio applications. RadioScape simplifies the creation of wireless receivers and transmission infrastructure for digital radio, partners with Texas Instruments to create digital radio chips for consumer products, and designs its own family of DAB/FM modules including the RadioScape RS200(tm), RS200L(tm), RS201(tm), RS250H(tm), RS300L(tm) and RS350A(tm). Founded in 1996, RadioScape's investors include Royal Bank Ventures, Scottish Equity Partners, Atlas Venture, JAFCO, Texas Instruments, Yasuda Enterprise Development, iGlobe Partners, Psion and NTL. RadioScape is headquartered in London, England and also has an office in Singapore. For more information, please visit www.radioscape.com.

For more information, please contact:
Nigel Oakley
VP Marketing
RadioScape Ltd
+44 20 7317 1969
nigel.oakley@radioscape.com

More from Controls & Controllers