Trelleborg Offshore Passive Fire Protection Awarded ISO Accreditation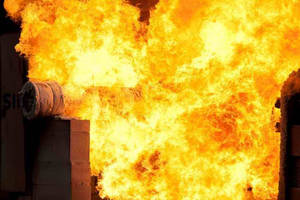 Leading global developer and manufacturer of polymer and syntactic foam-based solutions for the offshore industry, Trelleborg Offshore, has been awarded the ISO 22899 certification for its passive fire protection material, Firestop. The official certification, which was awarded by the International Organisation for Standardization, confirms that the company's innovative solution can safely and confidently be used for Jet Fire protection within pipes and hollow sections.

Oddvar Kopstad, Senior Design Engineer at Trelleborg Offshore, commented: "Passive fire protection systems are designed to contain fire and provide protection for people and equipment when it matters the most. In the extreme conditions of the offshore oil and gas industry, it is absolutely essential that engineers have the peace of mind that only comes from high performance, quality products.

"Achieving the ISO 22899 certification is an extremely positive step for Trelleborg Offshore and clearly demonstrates our dedication to continually ensuring the upmost quality and performance of our passive fire products and solutions."

Firestop is a rubber-based passive fire protection solution which can be customized to meet the demands of specific offshore oil and gas projects and installations. By utilizing a layered construction, Firestop provides corrosion, thermal, fire and mechanical protection.

Applications for Firestop include rigid riser or tubular fire protection, flexible riser fire protection, ESD valve protection, escape way tunnel seal and protection of riser Hang off arrangements.

For additional information on Trelleborg Offshore solutions for all offshore and subsea markets, please call Ruth Clay, Direct: +18324568308, Mobile: +12817405755; ruth.clay@trelleborg.com.

For press information: Nicola Poyser or Paul Myerscough at IAS b2b Marketing. Clarence Mill, Clarence Road, Bollington, SK10 5JZ, United Kingdom. Tel: + 44 (0) 1625 578 578; Fax: + 44 (0) 1625 578 579. Email: paul.myerscough@iasb2b.com, nicola.poyser@iasb2b.com.

Trelleborg Offshore and Trelleborg Group

Using advanced polymer material technology, Trelleborg Offshore provides high integrity solutions for the harshest and most demanding offshore environments. As part of the Trelleborg Engineered Systems Business Area of Trelleborg Group, Trelleborg Offshore specializes in the development and production of polymer and syntactic foam based seismic, marine, buoyancy, cable protection and thermal insulation products, as well as rubber-based passive and active fire protection solutions for the offshore industry. Within its portfolio are some long established and respected brands including, CRP, OCP, Viking and Emerson & Cuming. Trelleborg Offshore has been providing innovative solutions to the industry for over 30 years and has the largest and most advanced syntactic foam manufacturing facility in the world. www.trelleborg.com/offshore.

Trelleborg is a global industrial group whose leading positions are based on advanced polymer technology and in-depth applications know-how. Trelleborg develops high-performance solutions that seal, damp and protect in demanding industrial environments. The Trelleborg Group had annual sales 2011 of just over SEK 29 billion (EUR 3.2 billion), with around 21,000 employees in over 40 countries. The Group comprises four business areas: Trelleborg Engineered Systems, Trelleborg Automotive, Trelleborg Sealing Solutions and Trelleborg Wheel Systems. The Trelleborg share has been listed on the Stockholm Stock Exchange since 1964 and is listed on the NASDAQ OMX Nordic List, Large Cap. www.trelleborg.com.


More from Thermal & Heating Equipment