Tregaskiss to Showcase New MIG Guns and Consumables at FABTECH 2011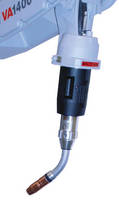 WINDSOR, Ontario. Tregaskiss announced that it plans to attend FABTECH 2011, November 14 to 17 in Chicago. There, the company will showcase its semi-automatic and robotic MIG guns, along with its consumables and welding peripherals. Tregaskiss will share booth 5950 with Bernard, Hobart Brothers, Smith Equipment and Weldcraft. New and showcased products of special interest to the fabricating and manufacturing industries include:


AutoLength Liner System: This new spring-loaded module, housed inside the power pin, ensures that the liner remains seated properly while offering up to one inch forgiveness if the liner has been cut too short or too long. The AutoLength Liner System was created to minimize wire feeding and quality issues, as well as downtime, commonly associated with the liner being trimmed to the incorrect length. This system is designed specifically for use with QUICK LOAD(TM) Liner System. The innovative front-loading QUICK LOAD Liner System has recently become standard on TOUGH GUN(TM) and TGX(TM) Semi-Automatic MIG Guns, and has been standard on TOUGH GUN Robotic and Automatic MIG Guns since 2010.


TOUGH GUN(TM) ThruArm(TM) G2 Series Robotic MIG Guns: These new robotic MIG guns are compatible with all robotic systems, including those by FANUC, ABB, Motoman and KUKA. The new series has the same reliable features as previous ThruArm Robotic MIG Guns, including the exclusive Tregaskiss LSR (Low-Stress Robotic) Unicable Technology that minimizes stress caused by robotic wrist rotation. Plus, the guns now have a new solid mount and custom arm.

Tregaskiss experts will also be available at the booth to answer questions about these and other Tregaskiss products.

About Tregaskiss
For more information on Tregaskiss Products, call 1-877-737-3111 or fax 1-877-737-2111 (in Canada and USA), write Tregaskiss, 2570 North Talbot Road, Windsor, Ontario, Canada, N0R 1L0, e-mail info@tregaskiss.com or visit Tregaskiss.com. Outside North America, call +1-519-737-3000 or fax +1-519-737-2111.

Tregaskiss is an industry leader in the development and manufacturing of MIG welding guns and peripherals, and offers its products worldwide. Its brands include TOUGH GUN(TM) Manual, Robotic MIG Guns and Peripherals, TGX(TM) MIG Guns and TOUGH GARD(TM) Anti-Spatter. Tregaskiss is a wholly owned subsidiary of Illinois Tool Works Inc. (ITW), Glenview, Ill. ITW is a diversified multinational manufacturer of highly engineered components, assemblies and systems.