Tregaskiss to Showcase New MIG Gun Liner System at FABTECH 2012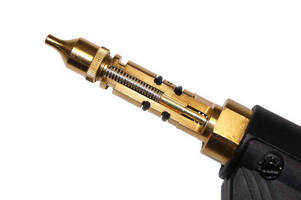 WINDSOR, Ontario - While at FABTECH 2012, November 12 to 14 in Las Vegas, Tregaskiss will introduce a new way to minimize downtime and quality issues in the MIG welding process. There, the company will display its new QUICK LOAD(TM) Liner AutoLength(TM) System at booth 5513.

The new QUICK LOAD Liner AutoLength System was designed to minimize the problems and costs commonly associated with a MIG gun liner being cut too short, including poor wire feeding, burnbacks and premature contact tip failure. It can be used with both semi-automatic and robotic MIG guns.

Housed inside the power pin, a spring-loaded module applies constant pressure on the liner, keeping it seated properly in the retaining head (or diffuser) at all times. The new system allows for up to one-inch (2.54 cm) forgiveness if the liner is cut too short and it accommodates liner movement during welding. Once the AutoLength Pin has been installed at the rear of the gun, a QUICK LOAD Liner can be installed from the front of the gun in less than half the time and effort to replace a conventional liner.

Tregaskiss experts will be available at the booth to provide demonstrations of the new QUICK LOAD Liner AutoLength System, as well as to answer general MIG welding or product questions.

About Tregaskiss

For more information on Tregaskiss Products, call 1-877-737-3111 or fax 1-877-737-2111 (in Canada and USA); write Tregaskiss, 2570 North Talbot Road, Windsor, Ontario, Canada, N0R 1L0; email info@tregaskiss.com or visit Tregaskiss.com. Outside North America, call +1-519-737-3000 or fax +1-519-737-1530.

Tregaskiss is an industry leader in the development and manufacturing of MIG welding guns and peripherals, and offers its products worldwide. Its brands include TOUGH GUN(TM) Manual, Robotic MIG Guns and Peripherals, TGX(TM) MIG Guns and TOUGH GARD(TM) Anti-Spatter. Tregaskiss is a wholly owned subsidiary of Illinois Tool Works Inc. (ITW), Glenview, Ill. ITW is a diversified multinational manufacturer of highly engineered components, assemblies and systems.


More from Machinery & Machining Tools