Travel Carriage holds torch in flat and vertical positions.
Press Release Summary: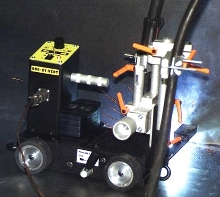 BUG-GY-VERT welding travel carriage uses 14.4 V rechargeable battery and magnetic base to hold torch. Guide arms track and steer into fillet joint; rail is not required to operate machine. Torch oscillator allows unit to perform weave welds. BUG-GY-VERT provides constant travel rate and precise path control.
---
Original Press Release:
A Battery Powered, Magnetic Travel Carriage for Welding in the Vertical or Horizontal Position

Bug-O Systems Inc. announces the introduction of the first battery powered welding travel carriage. The BUG-GY-VERT, using a 14.4 volt rechargeable battery and a magnetic base will carry a welding torch in the flat and vertical position. Rail is not required to operate this machine, it uses guide arms to track and steer into the fillet joint.

The BUG-GY-VERT features a torch oscillator allowing the unit to perform weave welds. By providing constant travel rate and precise path control of the welding torch the BUG-GY-VERT will increase welding production, improve weld quality and decrease the welders fatigue.

For more information on the BUG-GY-VERT contact:

Bug-O Systems, 3001 West Carson St., Pittsburgh, PA USA 15204-1899

Phone: 1-800-245-3186 extension 55, Fax: 1-412-331-0383

www.bugo.com