Trapped-Key Locks fit on valves for added safety.
Press Release Summary: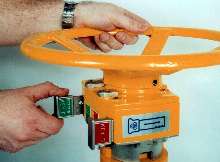 Valve Interlocks ensure safe sequence of steps is followed when operating hazardous process equipment. They eliminte operator error from process, pipeline, and maintenance operation. Insertion of key unlocks equipment from either open/on or closed/off position. Units are constructed from stainless steel and are lubricated for life. Interlocks are also offered for access guards, switches, tanker loading systems, and carbon dioxide flood systems.
---
Original Press Release:
Trapped-Key Interlocks for Added Safety
Valve interlocks from Smith Flow Control (USA) are simple trapped-key locking devices which ensure a safe sequence of steps is followed when operating hazardous process equipment. They can be quickly and easily fitted on valves and associated equipment and are designed to eliminate operator error from process, pipeline and maintenance operations. The simple insertion of a key unlocks the equipment from either an open/on or a closed/off position. By exchanging keys between valves and other process equipment, a predetermined sequence of operation is guaranteed and the potential for human error is eliminated. Smith Flow Control's valve interlocks are constructed from stainless steel and are lubricated for life. They can be installed any type of valve, whether operated manually or actuated, with no modifications to the valve or actuator required. Interlocks are also available for access guards, switches, tanker loading systems, pig traps and carbon dioxide flood systems. Smith Flow Control (USA) 21 Kenton Lands Road, Erlanger, KY 41018, USA Tel: 859-578-2395 Fax: 859-341-2302 E-mail: sales@smithflow.com Company contact: Mr. Martin West
More from Mechanical Power Transmission