Transporter provides gap between consecutive conveyors.
Press Release Summary: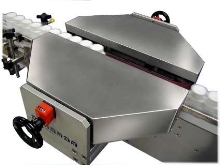 Suited for packages measuring at least ½ in. wide, Gap Transporter operates at speeds up to 160 fpm. It consists of 2 parallel belts with variable speeds that can be adjusted horizontally with hand-wheel. System helps prevent spilled product or debris from reaching downstream equipment and can equalize conveyor speeds for unstable products. By changing system's configuration, manufacturers can mechanically verify presence of caps on containers.
---
Original Press Release:

Versatile Gap Transporter Adds Flexibility, Maximizes Productivity


Cost-Effective System Performs Wide Range of Tasks

San Juan, PR (March 9, 2005) - AutoPak Engineering Corporation announces several unique functions for its versatile Gap Transporter to help pharmaceutical and nutraceutical manufacturers increase flexibility and maximize productivity. The system is particularly well-suited for packages measuring at least 1/2" in width.

"While often used to simply create space between consecutive conveyors, the Gap Transporter can perform a variety of functions," explained Ignacio Muñoz-Guerra, General Director for AutoPak Engineering Corporation. "By changing the system's location in the production line or making minor adjustments, the Gap Transporter offers manufacturers a cost-effective way to enhance the efficiency of their packaging process."

Using the Gap Transporter in its most basic format prevents spilled product or debris from reaching downstream equipment. By isolating product spills, operators only have to focus on cleaning a specific area of the line, saving significant time.

However, changing the system's basic configuration allows manufacturers to perform multiple other tasks with the same unit, including mechanically verifying the presence of caps on containers. The system can be set to lift bottles by their caps, causing containers without caps to fall through the open space and preventing them from continuing through production. This intrinsically fail-safe system has a lower probability of failure as compared to electronic verification.

AutoPak's Gap Transporter can also equalize conveyor speeds for unstable products. For example, if two conveyors are running at different speeds, the Gap Transporter can help transfer product from one belt to the next.

Other uses include providing access for marking and inspecting the bottom of containers and rotating round containers for labeling or proper orientation.

Constructed from stainless steel, the Gap Transporter consists of two parallel belts with variable speeds. The belts are adjusted horizontally with a hand-wheel until they come in contact with the product, squeezing it using minimal force. Operators can open or close each side of the Gap Transporter independently (dual motor) or both sides simultaneously (single motor) to adjust for different size products.

A digital counter ensures the exact repeatability of the setting, saving valuable setup time. Minor adjustments due to material variances (i.e. bottle diameter) can be performed easily and quickly. Capable of operating at speeds up to 160 FPM, AutoPak's Gap Transporter is available in a variety of lengths and can be fitted with 1- or 2-inch timing belts. The system's aluminum or stainless steel base can be mounted to an existing conveyor.

For more information, contact: AutoPak Engineering Corporation; Tel: (787) 723-8036; Email: mailbox@autopak.com.

About AutoPak
AutoPak Engineering Corporation manufactures a range of material handling technology including sanitary stainless steel conveyors and ancillary equipment and performs integration services for the pharmaceutical, cosmetic and food industries. Its entire range of automation solutions ensure flexibility, consistency and quality for the conveying of small- to medium-sized products. With over 15 years of engineering expertise, AutoPak's solutions are designed to meet specific customer requirements. AutoPak also troubleshoots and trains customers in the proper use and maintenance of its products.

More from Fluid & Gas Flow Equipment