Transporter Conveying System operates without lubrication.
Press Release Summary: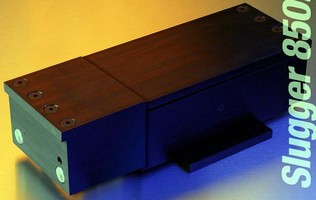 Featuring 100% oil-less design, air-operated Slugger 850B can move loads up to 500 lb in addition to 100 lb of tray weight. Multiple trays can be mounted to single unit, and rugged-duty system consumes 3.4 cfm air and offers variable 15-40 fpm feed rate. Along with stainless steel bore liner and self-contained, self-cleaning wiper mechanism, construction elements include totally enclosed body, air regulator and filter, and stainless steel sleeves.
---
Original Press Release:

Reengineered Transporter Conveying System Moves Heavier Loads with Less Cost by Eliminating the Need for Lubrication Plus Air Consumption Reduction



Port Royal PA -­ The rugged-duty "SLUGGER" Model 850B Transporter Conveying System, by Vibro Industries (Vibro), has been reengineered to provide several distinct benefits that improve quality and reduce operating costs.

First, the Slugger 850B now provides 100% Oil-less Operation and is 100% Air Operated (no springs). This model has a smaller profile and is lighter in weight (47 lbs./ 21.3 kg) when compared to earlier models. The Model 850B moves load capacities of more than 500 lbs. (255.8 kg) plus 100 lbs. (45.3 kg) of tray weight. It features low 3.4 CFM** air consumption (certified at half the air consumption of other models) and offers a variable 15 to 40 ft/min. (4.5-12 M/min.) feed rate. This means multiple trays can be mounted to a single unit, replacing several conventional belt conveyors.

The reengineered Model 850B also features a stainless steel bore liner; self-contained, self-cleaning wiper mechanism (to keep rails clean); totally enclosed body to protect mechanical components from harsh environments; longer-lasting bearings; air regulator and filter; and stainless steel sleeves for longer life. Best of all, the Model 850B costs no more today than it did in 1994, providing exceptional value.

Vibro offers a full line of Transporters for almost every conveying application and budget. All models are warranted for 2 years and manufactured entirely in the USA. After 2 years (or as needed), they can be factory rebuilt and warranted again for 2 more years. Contact us to receive your product kit, application video, engineering support, or to locate the sales representative nearest you.

** Certification testing was performed by an independent testing lab with equipment that complies with ASME Std. MFC -18M (2001).

ABOUT VIBRO INDUSTRIES

Vibro Industries, of Port Royal, PA, manufactures a premium line of Air-Operated Transporters that are 100% air operated and 100% American made. Leroy Johnson, president, introduced the first Vibro Air-Operated Transporter in 1985, following 12 years of extensive experimentation and rigorous testing. Since that time, Vibro Air-Operated Transporters continue to perform successfully a variety of conveying applications in manufacturing operations worldwide.

More information is available by contacting:
Leroy Johnson, President
Vibro Industries, P.O. Box 209, Port Royal, PA 17082
Tel: 717.527.2094; Fax: 717.527.2180
Email: vibro@vibroindustries.com
Web: www.vibroindustries.com

More from Chemicals & Gases