Transportable Modular Data Center is instantly deployable.
Press Release Summary: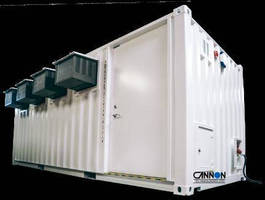 Globe Trotter can be used in diverse applications, including environments from desert and tropical to arctic and maritime, with virtually no prior preparation and near instant operation. Available in 12 footprints from 80–900 ft² with 2–38 cabinets and up to 200 kW, unit features containerized pre-fabricated 3, 6, or 12 m single modules or double clamshell variants. Solution utilizes 19 in. cabinets and aisles and comes pre-fabricated with power, cabling, containment, and cable management.
---
Original Press Release:

Cannon T4 Incs' Globe Trotter Offers a World-Class Transportable Modular Data Center Solution (CAN150014US)



Cannon T4 Inc, the international leader in innovative IT Infrastructure systems, has announced the general availability of Cannon Globe Trotter, a pioneering transportable modular data center solution. Globe Trotter has been specifically designed for use in a wide variety of applications, including extreme environments ranging from desert and tropical to arctic and maritime, with virtually no prior preparation and almost instant operation.



globe trotter external cleaned up 2Suitable for all modes of transport, Globe Trotter comprises a range of high specification, containerized pre-fabricated modules that are available in 3m, 6m and 12m single modules, and double 'clamshell' variants. Fully ISO CSC certified, the Globe Trotter range meets and exceeds all ITE requirements thanks to many features such as full size racks with optimal power and cooling.  An additional option is Cannon T4's patented, 'Soft Ride' 19-inch shock absorption frames which are located within the racks, protecting differing equipment weights. For mission critical deployments, wireless shock transmitters can also be used to advise control centers of any seismic activity.



Offering all the functionality of a conventional data center, Globe Trotter is configured to be energy efficient with a low power usage effectiveness (PUE) rating. This is possible thanks to a climate control system that is configured via direct/indirect filtered free cooling with direct expansion (DX) technology that can deal with temperatures ranging from +58°C to -46°C. Quick fit external cooling modules allow a system to be operating within an hour of offloading.



Globe Trotter utilizes standard full size 19-inch cabinets and aisles, and each unit comes pre-fabricated with power, cabling, containment and cable management.  For customers who require a true 'Turn Key' system Cannon can supply modules complete with pre-installed servers, switches, modular or fixed uninterruptible power supply (UPS) systems, LED lighting, and power distribution units (PDUs) with N+1 redundancy. The typical power density of an installed system is 4kW to 6kW per rack although higher densities are available. Clamshell versions can be joined together rapidly whilst maintaining a weather proof wall between the operating units.



Maximum layout flexibility facilitates a data center solution that is easy to configure, fast to install and minimizes disruption. Available in 12 footprints from 80 to 900 square feet with 2 to 38 cabinets within and up to 200kW at n. Whatever the chosen format, it will benefit from the use of cutting edge infrastructure technology for resilient operation, along with a robust and highly secure construction.



Globe Trotter's ability to offer unrivalled performance in harsh environments has already been recognized. Previous versions have been utilised at various European government project sites around the world, where they are exposed to severe weather and seismic activity. This resulted in Cannon T4 Inc receiving the Most Extreme Data Center Deployment Award at the DatacenterDynamics EMEA Awards.



Cannon T4's managing director, Matthew Goulding, commented, 'A great deal of work has gone into making Cannon Globe Trotter the most resilient transportable modular data center solution available today. It has undergone a thorough testing programme and with the utilisation of state-of-the-art components offers unrivalled levels of performance, scalability and functionality, even in the most demanding environments.'



For More information click here or visit

http://www.cannontech.co.uk/ISO_and_WISO_Container_Based_sytems.html



ABOUT CANNON T4 Inc

With a 36 year pedigree, Cannon T4 Inc. provides T4 Data Center Solutions around the globe - from building complete data centers as turnkey projects up to TIA 942 Tier 4; to suites of intelligent, environmentally managed infrastructure   racks, including cold-aisle cocooning, per-rack access control, video surveillance, intelligent power distribution and UPS. At top turnkey level Cannon designs, supplies, integrates and commissions the IT architecture for military and commercial applications, for mission critical projects. For more information visit: www.cannont4inc.com



Debby Freeman

Communicator

( +44 (0) 1487 843366 (Office)

( +44 (0) 7778 923331 (Mobile)

skype: debby.freeman1

debby.freeman@communicator-marketing.co.uk

www.communicator-marketing.co.uk

More from Electronic Components & Devices