Transport System features fully integrated drive.
Press Release Summary: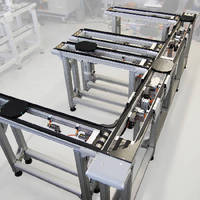 Comprised of double belt system, Model LT40 carries individual workpiece holders at speed up to 20 m/min. Solid plastic workpiece holders, available with widths and lengths of 200/240/320/480 mm, have load capacity of 16.8 kg and can be provided with RFID for identification at any time. With 60 mm diameter, drive is integrated in shaft, with no protruding parts, and operates conveyors almost noiselessly. It enables operators to adjust speed ramps and change transport direction.
---
Original Press Release:

Montech: New Transport System Ready for Sale



(Derendingen) The transport system LT40 developed by Montech AG is ready for market launch. Its peculiar feature is the compact, fully integrated drive. The Swiss conveyor specialist offers three-year warranty on all components.



The peculiarity of the transport system LT40 is the fully integrated and compact drive. The drive, with 60 mm diameter, is integrated in the shaft, with no protruding parts, and operates the LT40 conveyors almost noiselessly. The drive is driven by a motor with stepless speed variation. The operator can adjust speed ramps and change the transport direction.



Double belt conveyors with workpiece holders

Montech's transport system LT40 is comprised of a double belt system, which carries individual workpiece holders at a speed up to 20 m/min. The workpiece holders have a load capacity of 16.8 kg and can be provided with RFID, so that they can be identified at any time.



The transport system LT40 can be supplied with square or elongated workpiece holders in six different sizes, with widths and lengths of 200/240/320/480 mm. They are made of solid plastic materials featuring high stiffness combined with light weight.



Components LT40

The removal of workpiece holders is carried out with lateral transport or 90-degree diverter. One or more workpiece holders can be stopped, singulated or delayed by means of a shock-absorbing pneumatic separating unit, which can be used both as stopper and pre-stopper. The orientation of workpiece holders can be changed in-line with a lifting/turning unit.

All components can be easily and quickly re-arranged thanks to the dovetail, normally without modifying the chassis.



Processing from below

To execute operations on workpiece holders, a positioning device with 1000N pressure and a placing device for up to 60kN vertical loads are available. Both are integrated in the conveyor. For time-intensive operations, the workpiece holder can be extracted from the line by means of a bridge lift unit. With its large accessible areas, the transport system LT40 allows processing from below easily.



Initial positive feedback

"To develop the LT40 transport system, we collected several inputs from machine manufacturers, so that the system perfectly matches their requirements," says Gianluca Aloisi, Montech AG. "The transport system is designed for different requirements, offering a wide and diversified application spectrum. LT40 is a future-oriented transport system that can be deployed across the assembling and manufacturing domains." According to Aloisi, initial customer feedback is positive, especially for flexibility and modularity.



Simple, time-saving commissioning

Each section of the transport system is assembled, packaged and programmed by Montech using their own components. As a result, the customer only needs to connect the pre-packaged sections, with huge time savings during commissioning. Delivery time is two to three weeks, according to Montech.



Montech offers three-year warranty on all components of the transport system LT40, excluding wear parts.



For more information, please call +41 (0)32 6815500 or visit www.montech.com.



Montech AG

Montech AG markets basic modular components for the automation of demanding transport, assembly and production processes. In addition to conventional conveyor belts, the product range includes automation components and the Quick-Set profile system. A specialist in standard and customized transport and conveyor systems, Montech offers an ideal combination of customer-specific solutions with a high degree of standardization. Founded in 1964, the company is based in Switzerland and stands for innovation in the automation industry.



For more information

Montech AG    

Elke Manthei    

Gewerbestrasse 12   

CH-4552 Derendingen   

Phone: +41 (0)32 6815542  

Fax: +41 (0)32 6821977   

E-Mail: elke.manthei@montech.com   

www.montech.com

More from Laboratory and Research Supplies and Equipment