Transport System aids on-floor movement of heavy loads.
Press Release Summary: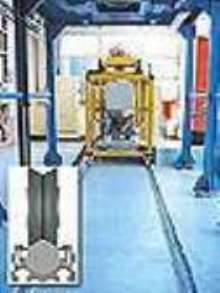 Suited for manual or powered installations, RoundTrack® System uses profiled steel rollers riding on round rails that are mounted on, or imbedded in, plant floor to provide fully-constrained mobility for heavy payloads. Because steel rollers contact rails at only 2 points, RoundTrack System is nearly friction free. It allows loads up to 10 tons to be transported manually by one person over any distance, with little or no lubrication required.
---
Original Press Release:

ATR-Strothmann RoundTrack® System Simplifies On-Floor Transport In Process Industry Applications


CAMBRIDGE, Ont., Canada, May 3, 2004 -- ATR-Strothmann has announced availability of its patented RoundTrack® System for on-floor transport of heavy loads in process industry applications. Suitable for either manual or powered installations, the RoundTrack system uses specially profiled steel rollers riding on round rails that are mounted on, or imbedded in, the plant floor to provide fully-constrained, low-effort mobility for heavy payloads.

Because the steel rollers contact the rails at only two points, the RoundTrack System is nearly friction free. This permits loads of up to 10-tons to be transported manually by one person over virtually any required distance.

Imbedded RoundTrack Systems are ideal for many process industry applications because they require little or no lubrication, are easily cleaned, and protrude only 2mm above floor level, which allows them to be installed safely in pedestrian traffic areas. Typical applications include: chemical batching and mixing operations; food, cosmetics, and household products preparation; packaging; and, pharmaceutical manufacturing.
The RoundTrack System is completely modular, and includes powered and unpowered roller cassettes and assemblies, 25 or 40 mm hollow or solid rails, turntables, crossovers, and rail mounts. Rails are available in hardened alloy steel for indoor use, and stainless steel for outdoor installations. Hollow rails can be fitted with heating elements for de-icing in outdoor or cold-room installations.

RoundTrack Systems can be installed during construction of new facilities, or retro-fitted to existing concrete floors. Retro-fit system can be mounted on top of existing floors using side brackets or with captive square nuts. They may also be installed in trenches milled into the floor with special equipment. ATR-Strothmann offers complete installation service for RoundTrack systems.

ATR-Strothmann develops and markets industrial automation, information and vision system solutions as well as manufacturing linear and rotary robotic components and systems used in handing a variety of materials in multiple process applications. A subsidiary of G. Siempelkamp GmbH & Co. Group of Krefeld, Germany, ATR-Strothmann serves a global base of customers including Boeing, BMW, DiamlerChrysler, Collins & Aikman, Ford, Magna, Molson Breweries, Procter & Gamble and Weyerhaeuser.

Within North America, ATR-Strothmann is represented by Industry-Scope (Grand Blanc, Mich.), a strategic consulting, marketing communications and manufacturer's representative firm, focused on supplying the needs of automotive companies and their supply partners. For more information, visit www.industry-scope.com.

Find more information on ATR-Strothmann at www.strothmann.com

More from Mounting & Attaching Products