Transponder Chip facilitates ski rental and deters theft.
Press Release Summary: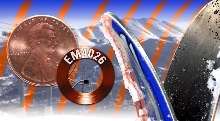 Battery-less Model EM4026 aids in handling and identification of rented skis or snowboards at ski resorts. Integrated into ski at manufacturing time, tamper-protected transponder can be read with contactless reader operating at 125 kHz. On-chip voltage limiter prevents chip from intentional or accidental destruction. Powered by reader field, chip features factory-programmed, 64-bit identification number and operates at temperatures down to -40°F.
---
Original Press Release:

RFID Circuit Hits the Ski Slopes


Robust passive ski transponders make handling of ski rental easy and help to deter theft

COLORADO SPRINGS, Colorado - April 5, 2005 - EM Microelectronic, an electronic systems company of the Swatch Group and the world's largest supplier of RFID ICs, has developed in cooperation with Skidata and EC-Passage a transponder chip, the EM4026, which greatly facilitates the handling and identification of rented skis or snowboards at ski resorts.

The EM4026 chip can be read with a contactless reader operating at 125kHz, a frequency range allowing for best reading performance in wet conditions or in close proximity to metallic parts. The battery-less transponder, which contains the chip connected only to a small antenna, is integrated into the ski at manufacturing time and is therefore invisible and tamper-protected. An on-chip voltage limiter prevents the chip from intentional or accidental destruction. It is powered by the reader field and can be operated at temperatures down to -40°C (or -40°F). It features anticollision, meaning that several tags can be read simultaneously in the area of the field detection. Each individual chip features a unique factory programmed 64 bit identification number. The Tag Talk First protocol enables a cost effective chip implementation and avoids interferences with existing contactless access control systems near ski lifts.

In ski rental shops, tagged items can be identified and attributed to customers very easily, making the process of delivery and return of rented equipment more accurate and speedier. Furthermore, with readers in lift boarding areas, more than 100 tags in the field can be counted and identified simultaneously. Ski resorts are thus able to automatically locate stolen or lost equipment.

EM Microelectronic and RFID technology have already been present on ski slopes for over ten years in access control with Skidata. Today most ski resorts in the European Alps are using RFID chips and systems for contactless access control to the lift boarding areas. With its partners, EM Microelectronic is also a world leader in supplying RFID chips for ski applications.

About EM Microelectronic
EM Microelectronic is a semiconductor manufacturer designing and producing ultra low power, low voltage, digital, analog and mixed-signal integrated circuits (ICs) for battery-operated and field-powered devices in consumer, automotive and industrial applications. RFID chips feature read/write, anti-collision, 125kHz, 13.56MHz, UHF and 2.45GHz operation for applications in security and access control, animal ID, logistics and immobilization in automotive. Other products include microprocessor supervisors and reset ICs, microcontrollers, smart card ICs, mixed analog and digital gate arrays, ASICs, LCD drivers and displays and optoelectronic ICs. EM also produces LCD modules and offers bumping services.

EM Microelectronic is one of the electronic systems companies within the Swatch Group, developing and producing ultra-low power, miniaturized and accurate microelectronic components and systems. Additional company and product information is available at emmicroelectronic.com.

Pricing for the EM4026 starts at $0.40 each in die form in quantities of 10,000 pieces.

A factsheet of the EM4026 is available for download at:
http://emmicroelectronic.com/webfiles/product/RFID/ds/EM4026_FS.pdf