Transparent Rack lets user find collets and end mills.
Press Release Summary: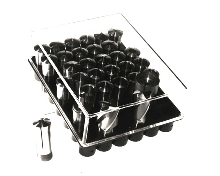 Rack with transparent cover keeps sharp tools from getting nicked or damaged, provides easy way to keep tools organized and inventoried, and eliminates wasted time hunting for tools. Rack can store 42 5C collets up to 1 in. dia or mix of 5C collets and end mills in 1 1/4 in. and 32 mm sizes. It is made from high impact plastic with black styrene base and measures 9 1/2 x 12 in. Tray fits on any work bench or shelf at workstation, grinding room or tool crib.
---
Original Press Release:
Transparent Rack Instantly Lets User Find Collets and End Mills

Huot's new rack with a transparent cover provides quick, 3-way savings: 1) keeps sharp tools from getting nicked or damaged, 2) provides an easy way to keep tools organized and inventoried, 3) eliminates wasted time hunting for tools. Simply look through the transparent cover and find the collet or end mill you need. The rack can be used to store 42 5C collets up to 1 inch in diameter or a mix of 5C collets and end mills in 1-14 inch and 32 mm sizes.

Made from high impact plastic with a black styrene base, the rack provides the extra durability and ruggedness desired for work shop environments. Its small size base of 9-1/2" by 12" fits on any work bench or storage shelf at a workstation, grinding room or tool crib. The rack is affordably priced at $40.00 per unit and typically pays for itself with the first "lost" tool that is found.

Huot's new rack completes a 4 part system for storing and organizing end mills and collets. All 4 racks have the same dimensions creating a system that holds all end-mills in English and Metric measurements from 3/16 inch to 14 inch and from 25mm to 32 mm, and R8 and 5C collets from 3/4" to 1". The stackable, 4 part system economically stores and protects over 651 end mills and collets for only $160.

Company Description: Huot Manufacturing is located at 550 North Wheeler Street in St. Paul, Minnesota 55104. The company manufactures and markets cutting tool storage cabinets, dispensers, and tool carts for a variety of tooling including drills, taps, inserts and CNC tooling.

Additional information about Huot Manufacturing can be found at:
The Huot Website: www.huot.com Phone: (800) 832-3838