Transparent Inflatable Packaging protects fragile contents.
Press Release Summary: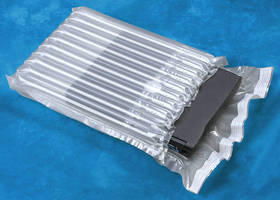 Made from coextrusion of LDPE film and nylon, ChamberPak(TM) features series of adjoining air tubes that are securely inflated to cushion and protect products during shipment. Tubes are connected via series of one-way valves, and one chamber puncture will not affect others. Once contents are loaded into deflated package, structure is inflated through external valve. Package can then be loaded into carton for shipping and typically enables contents to withstand multiple drops.
---
Original Press Release:

Pregis ChamberPak(TM) Provides Protection for Wide Range of Consumer Electronics, Refurbished Components



Deerfield, Ill. - Newly-branded ChamberPak(TM) from Pregis Corp. is an ideal protective packaging structure for a wide range of consumer electronics, refurbished components (DVRs, DVD /CD players, etc.), toner cartridges and more.

The patented design features a series of adjoining air tubes which are securely inflated to cushion and protect products during shipment. The tubes are connected via a series of patented one-way valves. If one chamber is punctured, the others remain inflated. Made from a coextrusion of low-density polyethylene film and nylon, ChamberPak also has superior air retention.

"The product is ideal for components which require added protection. Contents packaged in ChamberPak can typically withstand multiple drops. The package performs long after other types have failed," said Evan Everett, global commercial director for packaging systems, Pregis.

ChamberPak ships flat, which offers shipping and storage benefits compared to expanded polystyrene (EPS) or molded pulp components. (Twenty thousand ChamberPaks can fit on one skid vs. a couple hundred sets of EPS or several thousand molded pulp types.) This also helps reduce fuel consumption and carbon emissions.

Further, deflated/flattened ChamberPak structures create less solid waste vs. molded EPS and foam-related materials. Secondary packaging size can be reduced to save materials and reduce waste. Transport cube of the final package also is reduced offering yet another environmental benefit.

ChamberPak is easy to use. First, the product is loaded into a deflated package. The structure is then inflated through an external valve in a matter of seconds. (Air travels through a sequence of air chambers, which expands the package to its intended size.) The package is then loaded into a carton for shipping.

Unlike alternative methods of protection, ChamberPak is transparent, providing quick and easy identification of the contents.

Additional applications for ChamberPak include a wide variety of food, wine and spirits, where protection, coupled with presentation, is desired.

About Pregis:
Pregis Corporation is a leading global provider of innovative protective, flexible, and foodservice packaging and hospital supply products. The company offers packaging and product solutions for a wide variety of consumer and industrial market segments including food and foodservice, healthcare, agriculture, automotive, furniture, electronics, construction, fulfillment, catalog and military/aerospace. The specialty-packaging leader currently operates 47 facilities in 18 countries around the world. For more information about Pregis, visit www.pregis.com.