Transparent Heat Shrinkable Tubing aids visual inspection.
Press Release Summary: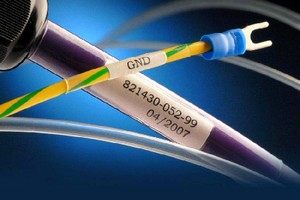 Manufactured using modified PVDF material that offers UL VW-1 flame retardency and low shrink temperature of 150°C, FIT®-CLEAR Tubing has effective operating temperature of -55 to + 175ºC with approximate shrinkage ratio of 2:1 at 150ºC. It resists mechanical abrasion, cut-through, and chemicals, including solvents. Applications include automotive wiring, jackets, and fuse coverings, as well as jacketing for resistors, capacitors, and other components.
---
Original Press Release:

Alpha Wire Launches Transparent Heat Shrinkable Tubing For Visual Inspection Applications



Elizabeth, NJ... Leading supplier of advanced solutions and service in wire, cable and tubing, Alpha Wire Company, has announced the launch of a new, completely transparent, heat shrinkable tubing called FIT®-CLEAR. The latest addition represents a unique addition to the company's existing line of heat shrink products and will address applications where visual inspection and identification are issues once a cable has been dressed.

FIT®-CLEAR is manufactured using a modified polyvinylidene fluoride (PVDF) material that offers UL VW-1 flame retardency with a low shrink temperature of 150ºC. It has an effective operating temperature range of -55ºC to + 175ºC with an approximate shrinkage ratio of 2:1 at 150ºC. It also displays exceptional resistance to mechanical abrasion and cut-through as well as resistance to chemicals including solvents. Typical applications for FIT®-CLEAR include:

o Visual inspection and identification
o Automotive wiring, jackets and fuse covering applications
o Jacketing for resistors, capacitors and other components
o Low & High temperature environments
o Caustic and chemical environments
o Replacement of non-flame retardant clear heat shrinkable sleeving

FIT®-CLEAR forms part of the company's FIT® Preferred Heat Shrink Products line. The range is made from premium compounds under tight manufacturing controls. This ensures FIT® will consistently display excellent physical characteristics, such as low longitudinal shrinkage and wide temperature ranges, while providing an aesthetic appearance when used alone or on OEM equipment.

The FIT® Preferred Heat Shrink Product line consists of many different tubing types each designed with unique attributes which offer tubing solutions for the broadest possible range of applications and environments.

David Watson, Product Marketing Manager, for Alpha Wire Company commented: "The launch of FIT®-CLEAR represents a significant announcement in reliable heat shrink solutions that are completely transparent. Unlike alternative clear heat shrinkable tubing which is largely flammable in nature, FIT®-CLEAR is ideal for applications where fire retardency is an issue. In addition, the product's lower recovery temperature saves valuable installation time and protects the underlying substrate from excessive heating."

Sandy Jaouen, Director of Marketing for Alpha Wire Company, added: "I am delighted that we are now able to offer the market such a valuable product that clearly addresses previously un-catered to applications. This product also compliments the XTRAoGUARD range of cables, specifically XTRAoGUARD 4 and 5 which offer extreme performance in high/low temperatures with high resistance to oils, chemicals, solvents, fuels and where low halogenated cables are required. To have gained UL Standard 224 as well as meeting, and in places exceeding, the requirements of SAE-AMS-DTL-23053/18 Class 1 re-affirms Alpha Wire's commitment to providing quality products."

For detailed information on FIT®-CLEAR please visit www.alphawire.com or contact your local Alpha Wire distributor.

More from Services