Transmitter/Receiver offers range up to 10 miles.
Press Release Summary: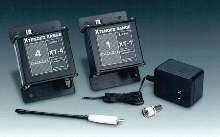 Long Range Radio Control Transmitter and Receiver are for use in wireless remote control applications. Crystal controlled transmitter accepts dry contact input and transmits encoded message to receiver. Encoding is done via FSK (frequency shift keying). Upon detection and verification of encoded control signal, receiver triggers remote device via dry contact. Single, four, and sixteen channel receivers can be mixed and matched with single or four channel transmitters.
---
Original Press Release:
Long Range Radio Control Transmitters
Federal Signal Electrical Products Group has designed a series of Long Range Radio Control Transmitters and Receivers for use in wireless remote control applications. Depending on the antenna used, the range can be extended to as many as ten miles. The transmitter accepts a dry contact input and transmits an encoded message to a receiver. The radio transmitter is crystal controlled and extremely stable. Encoding is done via FSK (frequency shift keying), which is superior to the typical AM modulation. Upon detection and verification of this encoded control signal, the receiver triggers a remote device via a dry contact. A common application of these Long Range Radio Control Transmitters and Receivers is remote gate activation. With the need for increased security or a reduced number of employees at most industrial facilities, companies are automating reception areas and security gates. With this concern in mind, a transmitter and a pushbutton router can be mounted inside a security shed or other permanent structure, and a receiver can be mounted at the gate. This allows an attendant to operate the gate remotely, without the expense of running control wires. Federal Signal offers single, four, and sixteen channel receivers that can be mixed and matched with single or four channel transmitters. The desired combination is programmed via dip switches with an identifying address. This creates the possibility of multiple systems operating independently in the same area or for a great number of transmitters and receivers operating within a single system. A second dip switch in the transmitter allows you to select which output channel is controlled. The entire series is designed for quick mounting and set-up. All of the transmitters are gasketed and designed for indoor and outdoor use. The transmitters feature a separate contact closure output for status monitoring, which can be used to trigger an alarm or other control system in the event of a problem. For complete information about Radio Control Transmitters and Receivers, and to find out about the opportunity to have a free on-site signaling systems evaluation, contact Federal Signal at 708-534-4756 or visit the website at www.federalsignal-indust.com. More about Federal Signal Electrical Products Group Federal Signal Electrical Products Group is a leading supplier of visual and audible signaling, warning equipment, and communications equipment. The company provides its customers with everything from warning lights, intercom systems, horns, bells and sirens, to controllers, audible warning systems and digital message devices. Federal Signal also offers complete facility-wide communication systems for both indoor and outdoor applications. With field application and engineering experience daring back decades, Federal Signal is capable of providing valuable assistance to the users of its products as they seek to design and specify equipment and systems into existing or new facilities. 2645 Federal Signal Drive o University Park, Illinois 60466-3195 o Phone: (708) 534-3400 o www.federalsignal-indust.com
More from Fasteners & Hardware