Transmitter offers measurement ranges from 0.5-200 mWG.
Press Release Summary: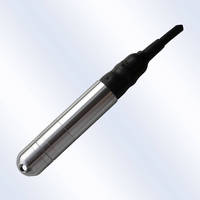 Designed for submersible applications, SDI-12L (serial data interface at 1,200 baud) hydrostatic level transmitter has operating temperature range of -20 to +60°C, and can be used in depths of up to 200 m. Accuracy of inbuilt temperature sensor is less than ±0.1% of full-scale output. Models use either stainless steel silicon-based pressure sensor or ceramic pressure sensor in marine-bronze, and piezoresistive technology. Ceramic pressure versions suit seawater, estuary, and saline applications.
---
Original Press Release:

SDI-12 Submersible Level Transmitter Offers High Accuracy and Stability



A new range of submersible hydrostatic level transmitters has been launched, which can be used in depths of up to 200 metres. The transmitter offers an SDI-12 digital output and an inbuilt high accuracy temperature sensor.

The SDI-12L range of submersible level transmitters from Impress Sensors & Systems Ltd uses either a stainless steel silicon-based pressure sensor or a ceramic pressure sensor in marine-bronze. Both versions use piezoresistive technology, which provides long term stability and repeatability of measurements.

The transmitter is ideal for a wide range of applications, including the monitoring of river and reservoir levels; tanks and vessels in process plants; seawater and estuary levels; borehole water levels; Tsunami and tidal monitoring systems; wave height measurement; environmental monitoring; and V-notch weir flow measurement.

The stainless steel version offers a higher resolution of pressure measurement to around 12-13 Bit and has a much lower signal-to-noise ratio, providing a very smooth and accurate method of level measurement.

The ceramic pressure sensor version is better suited to marine use, where standard devices may suffer from corrosion. These units are ideal for seawater, estuary and saline applications.

The SDI-12L offers measurement ranges from 0.5mWG up to 200mWG. The output units can easily be adjusted to mmWG, cmWG, inHg and all the standard engineering units required via the SDI-12 interface and command structure. Temperature range of the transmitter is from -20 deg C up to +60 deg C. Accuracy of the inbuilt temperature sensor is less than ±0.1% of full-scale output.

Due to its SDI-12 compatibility, the transmitter can be corrected according to the specific density of the media being measured and local gravity can be set within the device, adding further to the accuracy of the unit.

What is SDI-12?
SDI-12 stands for serial data interface at 1200 baud. This standard was developed in order to interface battery-powered data recorders to micro-processor-based sensors designed for environmental data acquisition (EDA).

EDA is accomplished by using a sensor(s) and a data recorder that collects and saves the data. SDI-12 is a standard communications protocol that provides a method of transferring measurements taken by a smart sensor to a data recorder. The sensor typically takes a measurement, makes calculations based on the raw sensor reading, then outputs the measured data in engineering units.

SDI-12 is particularly useful in applications where battery-powered operation with minimal current drain is required, or where the use of one data recorder with multiple sensors on a single cable is necessary. This includes acquiring hydrologic data at remote sites, which use battery-powered data recorders that operate for long, unattended periods of time.

Bore hole pump applications
The SDI-12L is ideal for borehole pump applications. Here, submersible pumps are used to pump water from bottom of the hole to the surface. For the pumps to operate efficiently, they must maintain a level of water above them to prevent them running dry, which can destroy a pump in a short period of time.

The SDI-12L can either be submersed with the borehole pump and attached to the bracketry or retrofitted by lowering the device into the borehole to a known height from the cable distance. The sensor will then output a signal to the surface via the cable, which can then be converted to a level reading. Using a digital process display, this signal can then be used to trigger a relay and turn the pump off if the water level is too low or switch the pump on if the level in the borehole has risen too high.

For more information on the SDI-12L range of submersible level transmitters, please call the sales department on 0118 981 7980 or visit the website at www.impress-sensors.co.uk

About Impress Sensors & Systems Ltd
Impress Sensors & Systems Ltd (www.impress-sensors.co.uk) is a rapidly expanding UK manufacturer and distributor of instrumentation products based in Aldermaston, Berkshire. The company prides itself on its expertise in pressure measurement and its knowledge of general instrumentation. The company manufactures its own range of standard and custom-designed pressure instruments in the UK, and distributes a wide portfolio of instrumentation products from its European partners - BD Sensors in Germany and Metallux in Switzerland. Impress specialises in offering a customised service in applications where standard products may not satisfy the technical requirements and price aspirations of customers. The company boasts the necessary technical expertise in mechanical, electronic and application engineering that enables it to supply instruments tailored to the customer's requirements.

Reader Enquiries/Advertising:
Sam Drury
Sales Director
Impress Sensors & Systems Ltd
Unit 6B, Mercury House
Calleva Park, Aldermaston,
Berkshire RG7 8PN
www.impress-sensors.co.uk
Tel: +44 (0) 118 981 7980
Fax: +44 (0) 118 981 7990
Email: info@impress-sensors.co.uk

More from Electrical Equipment & Systems