Transmitter measures flow of acoustically conductive liquids.
Press Release Summary: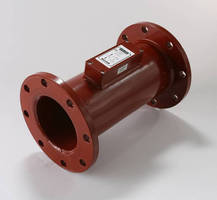 CSLFC Liquid Ultrasonic Flow Transmitter is designed for flows to 4,000 gpm in 4-10 in. pipe, with accuracy at 0.75% of full scale. Wetted materials include ULTEM® encapsulated ultrasonic transducers and epoxy-coated, Schedule 40 carbon steel pipe body material. Unit's mixed-signal ASIC combines timing, control, and transducer drive circuitry. Output is unaffected by changes in fluid temperature, density, and viscosity, as flow calculation is independent of speed of sound.
---
Original Press Release:

New Ultrasonic Flow Transmitters Provide Low Cost/High Performance



Clark Solutions CSLFC Liquid Ultrasonic Flow Transmitters are ideal for measuring flow in most clean liquids and many liquids with bubbles and/or entrained solids. Applications include monitoring flow rates of chilled or heated water as part of a green technology program as well as in municipal, process, and industrial systems. CSLFC Liquid Ultrasonic Flow Transmitters free users from having to calibrate the transmitter to fluid temperature, viscosity, or density, making them very easy to deploy and very reliable.

Hudson, MA - Clark Solutions-a leading manufacturer and distributor of flow instrumentation, pumps and valves, has introduced the CSLFC Liquid Ultrasonic Flow Transmitter. These transmitters are ideal for measuring flow rates of acoustically conductive liquids, including most clean liquids and many liquids with bubbles and/or entrained solids. CSLFC Ultrasonic Flow Transmitters are designed for flows to 4000 GPM in 4" to 10" pipe, feature no moving parts, excellent long-term stability, no pressure drop, broad fluid compatibility, and high accuracy (± 0.75% of full scale) at a lower cost than similar instruments. Wetted materials include ULTEM® encapsulated ultrasonic transducers with a choice of EPDM, Buna-N, Neoprene(TM), FKM, or other seals and epoxy coated, Schedule 40 carbon steel pipe body material.

The Clark CSLFC Liquid Ultrasonic Flow Transmitter is an excellent alternative to other flow transmitter technologies, with several clear advantages. There is no element in the fluid stream to add pressure loss, no moving parts, and no hysteresis. The output of the transmitter is unaffected by changes in fluid temperature, density and viscosity as the flow calculation is independent of the speed of sound.

At the heart of the transmitter is a proprietary mixed signal ASIC, which allows sophisticated timing; control and transducer drive circuitry to be combined on a single integrated circuit. The ASIC uses a special algorithm that is an improvement upon the standard single-path measurement technique. Using the "sing around" method, the ultrasonic transducer alternates between transmitting and receiving to measure differences in flight time between upstream and downstream transmissions. A sound pulse is transmitted from an upstream transducer towards a downstream transducer, like a traditional time-of-flight measurement. However, the received sound pulse then triggers a second downstream transmission that then triggers a third, and so on, for a specific number of cycles. This process is repeated in the upstream direction. Because it takes an average flight time over multiple cycles to compute the difference in flight times, this approach yields a significant improvement in timing accuracy when compared with the time-of -flight difference of a single sound pulse in each direction. This algorithm, combined with the pico-second timing resolution of the ASIC, provides the precise time measurement capability necessary for compact, small diameter, ultrasonic meters. The output of the transmitter is unaffected by changes in fluid temperature, density and viscosity, as the flow calculation is independent of the speed of sound.

About Clark Solutions:

Clark Solutions has a fifty-year history of providing unique solutions to the measurement, control, and monitoring of pressure, flow, and level in liquids and gases. Located in Hudson, Massachusetts, the company offers instrumentation, valves, and pumps to record, monitor, and control flow, velocity, pressure, temperature, humidity, level, gas concentration, and other properties. For more information contact Clark Solutions, 10 Brent Drive, Hudson, MA 01749, Tel. 978-568-3400, Fax. 978-568-0060, or visit our web site at www.clarksol.com.

URL: www.clarksol.com/html/cslfc.cfm

More from Agricultural & Farming Products