Transmitter delivers smart machinery health management.
Press Release Summary: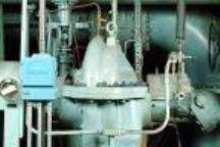 Foundation fieldbus Model CSI 9210 acquires vibration, temperature, motor flux, and machine speed on ac motor-pump machine trains, analyzes measured data, calculates machinery health, issues alerts if necessary, and recommends action to be taken. Analysis engine identifies damaging conditions such as pump cavitation, bearing degradation, excessive synchronous vibration, and motor overloading and overheating. Results are communicated into process automation systems.
---
Original Press Release:

Emerson Extends PlantWeb with Launch of Revolutionary CSI 9210 Machinery Health


New FOUNDATION fieldbus transmitter delivers Smart Machinery Health Management

AUSTIN, TEXAS (March 8, 2005) Emerson Process Management announces a new class of smart instruments that analyzes the health of plant mechanical equipment and presents actionable information to improve plant availability and performance. The CSI 9210 Machinery Health Transmitter acquires vibration, temperature, motor flux, and machine speed on AC motor-pump machine trains, analyzes the measured data, calculates machinery health, issues alerts if necessary, and recommends action to be taken.

Industry surveys indicate a strong demand for this type of online, field-based information. Typical process plants include 2500 machines, with 60 percent being motor-pump combinations. Additionally, mechanical failure is the cause of 43 percent(1) of plant incidents. The new CSI 9210 Transmitter will significantly impact the way process industries use and maintain their rotating equipment, providing reliable information that enables them to get longer service from their equipment and initiate timely maintenance to prevent unexpected failures.

"The CSI 9210 Machinery Health Transmitter is a significant extension of Emerson's PlantWebB. digital plant architecture and will deliver real business impact to users in terms of improved plant availability," said Craig Llewellyn, president of the Asset Optimization division of Emerson. "Smart Machinery Health Management delivers actionable information on rotating equipment health so plant personnel can prevent production upsets before they happen."

According to John Rezabek, Controls Specialist for BP Chemicals, Lima, Ohio, "The CSI 9210 Machinery Health Transmitter can alert our operators in real time when equipment problems start to manifest. If a change in upstream head, volatility, or composition results in increased flashing or cavitation, they can make adjustments to eliminate the problem."

The new device uses an embedded analysis engine to accurately identify potentially damaging conditions such as pump cavitation, bearing degradation, excessive synchronous vibration, and motor overloading and overheating. Results are communicated using the FOUNDATION fieldbus protocol into process automation systems and AMS Suite: Intelligent Device Manager predictive diagnostics software, giving users unprecedented real-time access to the true condition of their motor-pump assets. With this real-time information, plant operators are able to easily view rotating equipment status, recognize issues with machinery, and take actions to improve availability and performance.

When used within the PlantWeb architecture, the CSI 9210 Transmitter delivers analysis results in the form of PlantWeb Alerts, which categorize the warnings as "advisory," "maintenance," or "failed." A specific Machinery Health Value is also given along with recommendations for any necessary actions. The assessment of machinery health generated by the CSI 9210 Transmitter gives plant personnel a better understanding of the condition of monitored equipment and problems that may be developing. This knowledge empowers the practice of predictive maintenance, resulting in less equipment downtime, longer machine life, and lower maintenance costs.

Emerson combines world-class services with PlantWeb to help users apply field-based information. Services include installation supervision, configuration and startup, training, and ongoing support.

About Emerson Process Management
Emerson Process Management (www.emersonprocess.com), an Emerson business, is a leader in helping businesses automate their production, processing and distribution in the chemical, oil and gas, refining, pulp and paper, power, food and beverage, pharmaceutical and other industries. Asset Optimization, (www.assetweb.com), a division of Emerson Process Management, is a leading worldwide supplier of services and technologies to increase the availability and performance of production assets for improved bottom line results. Asset Optimization plays a key role in Emerson's mission of combining superior products and technology with industry-specific engineering, consulting, project management and maintenance services to help customers achieve the potential of their operations. Emerson brands include PlantWebB., Machinery Health, AMS Suite, CSI, Fisher, Micro Motion, Rosemount, DeltaV(TM), and Ovation.

About Emerson
Emerson (NYSE: EMR), based in St. Louis, is a global leader in bringing technology and engineering together to provide innovative solutions to customers through its network power, process management, industrial automation, climate technologies, and appliance and tools businesses. Sales in fiscal 2004 were $15.6 billion. For more information, visit www.GoToEmerson.com.

PlantWeb, Machinery Health, AMS Suite, Fisher, Micro Motion, Rosemount, DeltaV, and Ovation are marks of Emerson Process Management. FOUNDATION is a mark of the Fieldbus Foundation.

CONTACTS:
Jerry Moon, Emerson Process Management
1 (512) 832-3089, Jerry.Moon@EmersonProcess.com

Kim Nichols, Emerson Process Management
1 (865) 675-2400 x2102, Kim.Nichols@EmersonProcess.com

Related