Transmitter can be used with NaviTrack(TM) line locator.
Press Release Summary: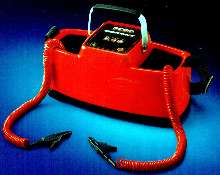 Transmitter simplifies line tracing with push-button operation, lightweight design, and rugged construction. With 3 trace frequencies, product is designed for use with NaviTrack line locator, which uses 6-antenna technology, to locate trace wires, metallic water lines, phone lines, cable TV lines, and other metallic lines.
---
Original Press Release:

New RIDGID® NaviTrack(TM) Transmitter Now Available for Use with NaviTrack Line Locator


ELYRIA, OH - August 2003 - Ridge Tool Company has introduced a new transmitter for its state-of-the-art line locator, NaviTrack(TM). The transmitter makes line tracing even easier with features that include convenient push-button operation, a lightweight design and rugged construction. The transmitter's three trace frequencies also provide added versatility.

The new transmitter is designed for use with the NaviTrack line locator to locate trace wires, metallic water lines, phone lines, cable TV lines and other metallic lines. It complements the line locator's superior accuracy and ease of use in locating underground pipe, cable and utility lines.

NaviTrack is superior to conventional line locators because of its 6-antenna technology and easy-to-read screen displays. NaviTrack is designed to quickly and accurately pinpoint the location and depth of the transmitter in buried pipes and drains. It also locates underground cast-iron pipes, water lines, electrical lines, telephone lines and other metallic cables that are energized.

The locator's large, real-time, liquid-crystal mapping display guides even inexperienced operators to the exact location of the target, regardless of how the unit is held. NaviTrack provides more feedback than conventional locators, with information displayed in an easy-to-read format. With its high-quality electronics and durable construction, the locator is built for long-lasting service in the field. Like all RIDGID products, the NaviTrack is backed by the RIDGID lifetime warranty.

Ridge Tool Company, a leading manufacturer of hand and power tools, markets its products in more than 130 countries. The company's broad offering includes threading and drain cleaning machines, and more than 300 types of tools serving the rental, plumbing, HVAC/R, industrial, electrical, petroleum, institutional, commercial and hardware markets. Ridge Tool is a subsidiary St. Louis, Missouri-based Emerson.