Transmitter and Receiver deliver video over UTP cable.
Press Release Summary: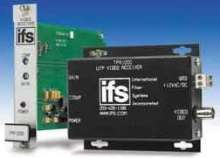 IFS Copperline TPT1000M and TPR1000 video transmitter and receiver deliver EIA/TIA RS250-C Medium Haul Video Performance at 1,500 ft and beyond over Cat 5 or UTP Cable. Designed for plug-and-play installation, receiver has adjustments for Video Gain and Frequency and can be used with any brand of passive transmitter for extended distances with no compromise in video performance. Environmentally hardened products meet NEMA TS-1/TS-2 requirements.
---
Original Press Release:

IFS Introduces CopperLine Series - The First High Performance Video Over UTP Solution


New IFS CopperLine Series Guarantees Medium Haul Video Performance at 1500 Feet

NEWTOWN, CT JUNE 10, 2004- International Fiber Systems Incorporated (IFS), a leading manufacturer of fiber optic transmission equipment, has announced the introduction of a new line of transmission products, this time not over fiber, but over Cat 5 or UTP Cable. The IFS Copperline TPT1000M and TPR1000 are the first environmentally hardened UTP video transmitter and receiver that offer a performance level never offered by any manufacturer. A full line of video, video and data and video multiplexing units are being introduced.

The IFS CopperLine video over UTP product line will offer unmatched video quality and distance. Up until now, the choice of video transmission has been limited to optical fiber, coaxial cable or UTP, with UTP having the lowest price, but traditionally not great video performance. " Until CopperLine, most UTP transmission products had their signal attenuated at about a thousand feet, making the picture unrecognizable." Said Steve Rutkowski, IFS CopperLine Product Manager. "Under the leadership of George Lichtblau, IFS founder and Chief Technology Officer, IFS found a way to match analog video signal impedance of the transmitter and receiver and effectively boost transmission distances up to a half mile." Rutkowski continued.

The IFS CopperLine promises to deliver EIA/TIA RS250-C Medium Haul Video Performance at 1500 ft and beyond. The new system of active receivers and passive transmitters allow the IFS CopperLine Receivers to be used with any manufacturers' passive transmitter, enabling that transmitter to extend distance with no compromise in video performance.

"As with other IFS Products, CopperLine was designed for "Plug and Play" installation. Said Rutkowski, The IFS CopperLine Series Active Receiver has adjustments for Video Gain and Frequency. This feature allows the unit to compensate for any variation in gain or frequency, ensuring a high quality video signal delivered from the CopperLine TPR1000 receiver. "We believe the new CopperLine series will be used in systems where both optical fiber and UTP transmission will be utilized. Therefore, the physical design of the CopperLine Series will closely match the traditional IFS line of video audio and data transmission products. This will allow the end user to integrate both product lines into traditional IFS racks, allowing for ease of use and a cost-savings during installation." Rutkowski continued. In the near future IFS will introduce Copperline products that, in addition to video only, will allow for "up-the-coax" and multiple-protocol bi-directional data.

As the with all IFS Products, the new CopperLine is environmentally ruggedized to meet the requirements of NEMA TS-1/TS-2 and can operate in an ambient operating temperature range of -40 to +74 degrees C.

About International Fiber Systems
Part of GE Interlogix, Inc., IFS is at the forefront of advances in fiber optic technologies. The company offers more than 300 analog and digital fiber optic products for commercial and industrial applications, which include CCTV, access control, data transmission, fire and alarm system applications, intelligent transportation systems, facility and building automation, and broadcast systems.

For more information, please contact Frank 'Skip' Haight at 203.426.1180; or e-mail IFS at sales@ifs.com. You may also find IFS on the World Wide Web at www.ifs.com. Electronic files of this release and photos of these products are available by contacting the IFS Marketing Department via e-mail at Frank.Haight@ge.com.

About GE Interlogix, Inc.
GE Security, part of GE Infrastructure, is a wholly owned subsidiary of the General Electric Company (NYSE: GE) focused on communication and information technologies for security, safety and lifestyle enhancements. GE Security has operations in more than 30 countries and is represented by some of the best-known brand names for intrusion and fire detection, access and building control, video surveillance, explosive and drug detection, key management and structured wiring. For more information about GE Security please visit www.GE-Interlogix.com.

IFS and the IFS logo are registered trademarks of International Fiber Systems, Incorporated. Additional company and product names may be trademarks or registered trademarks of the individual companies and are respectfully acknowledged.

More from Communication Systems & Equipment