Transmit/Receive Chipset combines low jitter, low power draw.
Press Release Summary: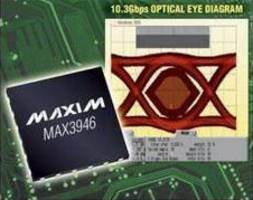 With combined power consumption of 355 mW, 1.0625-11.3 Gbps chipset consists of 4 x 4 mm MAX3946 laser driver with impedance-mismatch tolerance and 3 x 3 mm MAX3945 dual-path limiting amplifier. This 10GBASE-SR/LR SFP+ transmit/receive chipset enables less than 1 W SFP+ optical modules, and both ICs include 3-wire digital control interface with integrated control DACs. Optimized for Ethernet and Fiber Channel transmission systems, chipset is specified over -40 to +95°C range.
---
Original Press Release:

Low-jitter, Integrated 10Gbps Chipset Enables < 1W SFP+ Modules with Mask Margin to Spare



Maxim's 11.3Gbps transmit/receive chipset consumes only 355mW, leaving ample power budget for optical components and control circuitry in < 1W SFP+ modules.

SUNNYVALE, CA-Maxim Integrated Products (NASDAQ: MXIM) introduces a 1.0625Gbps to 11.3Gbps transmit/receive solution composed of the MAX3946 laser driver with impedance-mismatch tolerance and the MAX3945 dual-path limiting amplifier. This 10GBASE-SR/LR SFP+ transmit/receive chipset enables < 1W SFP+ optical modules while reducing overall module cost. The combined power consumption of the MAX3946 and MAX3945 is only 355mW, leaving plenty of margin for the optical subsystem and control. Both ICs include a 3-wire digital control interface with integrated control DACs to reduce external component count. Outstanding jitter performance eases design tolerances and improves manufacturing yield in SFP+ optical transceivers. This chipset is optimized for Ethernet and Fibre Channel transmission systems at data rates up to 11.3Gbps.

The MAX3946 is a 3.3V, multirate laser diode driver that is optimized to drive a differential transmitter optical subassembly (TOSA) with a 25Ù flex circuit up to 100mA modulation current and up to 80mA bias current. The unique design of the output stage enables the use of unmatched TOSAs to reduce headroom limitations and lower module power consumption by 100mW, with only 5psP-P deterministic jitter.

The MAX3945 is a 3.3V, multirate, high-sensitivity limiting amplifier that limits the signal generated by a transimpedance amplifier into a CML-level differential output signal. The dual-path limiting amplifier's programmable filter optimizes sensitivity for different data rates and suppresses relaxation oscillations that could occur in legacy optical systems.

The MAX3946 is packaged in a 4mm x 4mm, 24-pin TQFN, and the MAX3945 is offered in a 3mm x 3mm, 16-pin TQFN. Both devices are guaranteed by design and characterization to operate over the -40°C to +95°C extended temperature range. Pricing starts at $3.60 (1000-up, FOB USA).

Maxim Integrated Products is a publicly traded company that designs, manufactures, and sells high-performance semiconductor products. The Company was founded over 25 years ago with the mission to deliver innovative analog and mixed-signal engineering solutions that add value to its customers' products. To date, it has developed over 6300 products serving the industrial, communications, consumer, and computing markets.

Maxim reported revenue in excess of $1.6 billion for fiscal 2009. A Fortune 1000 company, Maxim is included in the Nasdaq 100, the Russell 1000, and the MSCI USA indices. For more information, go to www.maxim-ic.com.

Customer Service: 1-800-998-8800

More from Adhesives & Sealants