Translucent and Laminate Panels create diverse aesthetics.
Press Release Summary: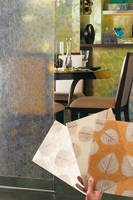 To accommodate various applications and decors, LuxCore™ Translucent and Laminate Panels come in 3 formats. Translucent FRP panel is imaged with FusionTech™ manufacturing process, in which un-backed aluminum sheets are treated with scratch-resistant coating and imbued with design images and colors via infusing process. Product can be used alone as translucent panel or combined with backer or corresponding LuxCore™ Translucent Background Color to produce laminate.
---
Original Press Release:

Outwater Introduces Its New Line of LuxCore(TM) Translucent and Laminate Panels



Bogota, NJ (www.outwater.com) — Outwater's [Outwater Plastics Industries, Inc. + Architectural Products by Outwater, LLC new line of LuxCore™ Translucent and Laminate Panels is offered in three different formats to accommodate a unique and diversified variety of applications and decors:



Please click the enclosed links for further product information:



LuxCore™ Translucent Panels



LuxCore™ Laminate Panels



LuxCore™ Translucent Background Colors



LuxCore™ is a proprietary translucent FRP panel imaged with an exclusive FusionTech™ manufacturing process in which un-backed aluminum sheets are treated with a highly scratch resistant coating and then imbued with design images and colors via a highly specialized infusing process.



Available in several design images and colors, which can be paired in numerous combinations as desired, Outwater's line of LuxCore™ Translucent and Laminate Panels enables one to create an aesthetic array of pleasing patterns and colors to suit an extensive range of decorative arrangements.  LuxCore™ can be used alone as a translucent panel, or can be combined with an added backer or corresponding LuxCore™ Translucent Background Color to produce a laminate.



LuxCore™ Translucent Panels: Stocked in 4'x 8' and 5'x10' .060" thick and 4'x 10' .120" thick panel sizes in a variety of designs and colors, LuxCore™ ultra rigid Translucent Panels lend themselves for a wide range of uses such as modesty panels, room dividers, shower enclosures or other vertical and horizontal interior applications where transparency is desired.  Chemical and abrasion resistant, LuxCore™ Translucent Panels are Class C Fire Rated, but are also available with a Class A Fire Rating in a 4'x 8' .045" panel.  The orientation and color of LuxCore™ Translucent Panels' designs can be modified to your specifications and special ordered in other available sizes.  Appropriate for use in either dry or wet environments, LuxCore™ is easy to clean and is not damaged by water.



LuxCore™ Laminate Panels: LuxCore™ Laminate Panels are LuxCore™ Translucent Panels with an added white backer.  Intended for different utilization than LuxCore™ Translucent Panels, LuxCore™ Laminate Panels can be backlit if desired, as they retain some transparency, and can be used as wainscot, wallcovering, on tabletops or in elevators.  LuxCore™ Laminate Panels are also perfect for applications in which high abrasion and impact resistant laminates might be required, such as in hospitals, restaurants and grocery stores.  Available in 4'x 8' and 5'x 10' .060" thick and 4'x 10' .120" thick panel sizes, LuxCore™ Laminate Panels can be special ordered in other available sizes.



LuxCore™ Translucent Background Colors: Background Colors can be added as a backer to any stock LuxCore™ Laminates design.  Available in seven standard Background Colors, custom colors can be special ordered if desired.



About Outwater [Outwater Plastics Industries, Inc. + Architectural Products by Outwater, LLC: Outwater can be contacted Toll Free at 1-800-631-8375 (For sales and product information in the USA & Canada) / 1-201-498-8750 (For sales and product information outside of the USA & Canada) or viewed online at http://www.outwatercatalogs.com/home/index.cfm



From the vendor of a single product in August 1972, Outwater, with sales and distribution facilities in New Jersey and Arizona, is recognized today as a well established international manufacturer and stocking distributor of more than 65,000 standard and innovative component products required by woodworkers, cabinet and furniture manufacturers, builders, remodelers, designers, architects, point-of-purchase and display fixturing manufacturers, OEM's, as well as a diversified range of other commercial and retail end users.



Major Product Categories include Plastic & Aluminum Extrusions; Lighting and Lighting Accessories; Furniture, Cabinet & Store Fixture Components; Knobs & Pulls; Casters; Fasteners; Laminates; The FOGA Exhibit & Display Fastening System; The Klem Connector; Literature Displays; Slatwall; Sign Holders; P.O.P Components; Display Motors & Turntables; Pedestals; Injection Molded Parts; Brass Tubing & Fittings; Surfacing Materials; Interior & Exterior Polymer & Wood Architectural Mouldings & Millwork; ORAC DECOR and DEM Architectural Mouldings & Millwork; Columns & Capitals; Balustrading; Wrought Iron Components; Decorative Stamped Steel & Polymer Ceiling Panels; Wainscoting; Wall Coverings; Fireplace Surrounds; Plastic "Glass" Block; Period & Contemporary Hardware; Kitchen & Bath Accessories; Kitchen & Bath Cabinetry and Vanities… and so much more!



Contact:

Joey Shimm, Director of Marketing

Outwater Plastics Industries, Inc. + Architectural Products by Outwater, LLC

(201) 498-8750



Abridged Contact Information:



OUTWATER PLASTICS INDUSTRIES, INC. +

ARCHITECTURAL PRODUCTS BY OUTWATER, LLC



Catalog Requests:

1-888-772-1400 (US)

1-888-333-0408 (Canada)

1-201-498-8750 (Outside of US & Canada)



Sales & Product Information: 1-800-631-8375 / 1-201-498-8750

Fax: 1-800-888-3315 / 1-201-498-8751



Outside of the USA & Canada Sales & Product Information:

1-201-498-8750

Outside of the USA & Canada Fax: 1-201-498-8751

Email: info@outwaterplastics.com

Web site: www.outwater.com



New Jersey . Arizona



Detailed Contact Information (Locations in New Jersey and Arizona):



OUTWATER PLASTICS INDUSTRIES, INC. +

ARCHITECTURAL PRODUCTS BY OUTWATER, LLC

[Bogota, New Jersey (Corporate Headquarters)

24 River Road, P.O. Box 500

Bogota, NJ 07603

Catalog Requests: 1-888-772-1400

Sales & Product Information: 1-800-631-8375 / 1-201-498-8750

Fax: 1-800-888-3315 / 1-201-498-8751

Email: info@outwaterplastics.com

Website: www.outwater.com



OUTWATER PLASTICS INDUSTRIES, INC. +

ARCHITECTURAL PRODUCTS BY OUTWATER, LLC

[Phoenix, Arizona

4720 West Van Buren, P.O. Box 18190

Phoenix, AZ 85043

Catalog Requests: 1-888-772-1400

Sales & Product Information: 1-800-631-8375 / 1-602-447-0936

Fax: 1-800-888-3315 / 1-602-447-0444

Email: info@outwaterplastics.com

Website: www.outwater.com

More from Packaging Products & Equipment