Transistor Tester has front-panel mounted LEDs.
Press Release Summary: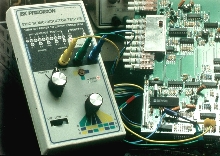 Model 520C utilizes limited-energy pulse circuit to permit in-circuit and out-of-circuit transistor testing. Its 6-position TEST switch sequentially connects device under test in all possible configurations. Included meter identifies leakage in Silicon and Germanium devices. Audible momentary tone identifies positive test, and automatic polarity indication identifies NPN or PNP, N or P channel type devices.
---
Original Press Release:
B & K Precision(R) Introduces Portable, Easy-To-Use, In-Circuit/Out-Of-Circuit Transisitor Tester

PLACENTIA, Calif., January 31, 2002 -B+K Precision Corporation, one of the industry's leading suppliers of test and measurement products, today announced the addition of the Model 520C Transistor Tester. This low-cost, battery powered tester can be used for in-circuit and out-of-circuit transistor testing, with special features for making additional tests on devices out of circuit. The Model 520C is designed for a minimum amount of control manipulation, making for rapid testing of most devices.

"Our new light-weight, battery-powered, portable transistor tester offers superb performance and flexibility," said Victor Tolan, B+K Precision's President and CEO. "It is ideal for use in determining good or bad transistors, FETs, SCRs, or diodes. And at a suggested retail price of $435, it is one of the most aggressively priced testers on the market today."

A 9VDC alkaline battery (supplied) provides power. When the power switch is first turned on, the front-panel mounted LEDs will cycle on then off, allowing a visual check of LED functions. The Model 520C uses a patented, limited-energy pulse circuit that permits in-circuit testing in the Presence of both a high current, low duty-cycle pulse technique to test transistors in the presence of shunting circuitry; and a low-current drive system which enables the user to identify the terminals of the device in most in-circuit tests and all out-of-circuit checks.

The easy-to-use front panel eliminates the need to refer to the operating manual. There are only three switches and no panel adjustments. The six-position TEST switch sequentially connects the device under test in all possible configurations, making it unnecessary to know the device's terminal identification. The switch can be left in the correct position so that additional tests can be conducted without memorizing test position.

The Base or Gate lead can be identified by color as the TEST switch is operated when testing with HI drive. All the leads of the transistor are identified when testing with LO drive. The Model 520C will determine whether the device is a transistor, FET or SCR and identifies the lead configuration. The unit will measure ICES or IBES of transistors, IDSS and gate leakage of FETs, and the reverse leakage current of diodes.

Outstanding features include a meter that identifies leakage in both Silicon and Germanium devices, an audible momentary tone that tells when the device under test is good -- no need to take eyes off the circuit board while testing hard-to-get-at devices, and an automatic polarity indication identifies NPN or PNP; N or P channel type devices. Supplied clip-on test leads that make positive connections with devices in difficult locations can also be used to free up an operator's hands to make further tests.

The compact, portable Model 520C Transistor Tester measures 2.0" wide by 4.0" deep by 7.5" high and weighs only 1.0 pounds. It is supplied complete with an operator manual, 9VDC battery and three test leads with mini-lock clips. Priced at $435, quantity one, the Model 520C is available for immediate delivery.
More from Communication Systems & Equipment