Transient Voltage Suppressors are RoHS and REACH compliant.
Press Release Summary: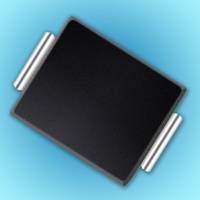 Suitable in power supply, AC/DC and telecommunications systems for IEC-grade circuit protection, P6SMBxxxA/CA Series Transient Voltage Suppressors provide 5.8 to 513 V reverse stand-off voltages. These units are offered as glass passivated chips in molded JEDEC DO-214AA package. Featuring lead-free pure-tin plating and 260-270⁰C solder reflow temperatures, suppressors are compatible with 61000-4-2 (ESD), 61000-4-4 (EFT) and 61000-4-5 (surge) standards and weighs 0.103 g.
---
Original Press Release:
ProTek Devices TVS Components Provide Circuit Protection in Power Supply, AC/DC, and Telecom Systems
The New Series of TVS Components Provide IEC-Grade Circuit Protection in Various Applications
ProTek Devices™ has introduced a new series of transient voltage suppressor components (TVS components) with 600 watts peak pulse power per line to provide IEC-grade circuit protection in power supply, AC/DC, and telecommunications systems. The P6SMBxxxA/CA series offers reverse stand-off voltages ranging from 5.8 to 513 volts.
There are 17 components in the P6SMBxxxA/CA series to cover the various voltage offerings. The series is compatible with IEC standards 61000-4-2 (ESD): level 4 - air 15kV, contact 8kV; with 61000-4-4 (EFT): 40A, 5/50ns; and with 61000-4-5 (surge): 8/20 micro second waveform. The TVS components allow bidirectional and unidirectional configuration options. They also provide low leakage current, a strong clamping capability, and a very fast response time. The series is also fully RoHS and REACH compliant and has a flammability rating of UL 94V-0.
Mechanical, Packaging and Availability Information
ProTek Devices offers components from the P6SMBxxxA/CA series as glass passivated chips in a molded JEDEC DO-214AA package. They have an approximate weight of only 0.103 grams. Other key mechanical characteristics include lead-free pure-tin plating (annealed) and a solder reflow temperature of (pure-tin - Sn, 100) 260-270 degrees Celsius. The terminal is solder capable, per MIL-STD-750, method 2026.
The P6SMBxxxA/CA series is provided on 12mm tape and reel, per EIA standard 481, in minimum quantities of 3,000. Pricing information and purchasing details can be had by contacting any authorized distributor, representative, or directly with ProTek Devices. The company's distributor and representative channels are available worldwide across the USA, Europe, Asia, Latin America and more. Full contact information for all regions can be found at the company website http://www.protekdevices.com/xyz/_company/sales.php.
About ProTek Devices
In business 25 years, ProTek Devices™ is a privately held semiconductor company. The company offers a product line of overvoltage protection components and overcurrent protection components. These include transient voltage suppressors (TVS arrays), avalanche breakdown diodes, steering diode TVS arrays, PPTC devices, and electronics SMD chip fuses. These components deliver circuit protection in various electronic systems against lightning; electrostatic discharge (ESD); nuclear electromagnetic pulses (NEMP); inductive switching; and electromagnetic interference / radio frequency interference (EMI / RFI). ProTek Devices also offers high performance interface and linear products. They include analog switches; multiplexers; LED drivers; LED wafer die for ESD protection; audio control ICs; RF and related high frequency products. The company maintains its headquarters in Tempe, Ariz. More information is available at http://www.protekdevices.com.
More from Agricultural & Farming Products