Transformer Rentals Now Offered by On Site Energy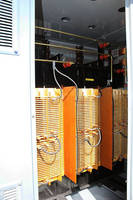 Transformer failures happen in the most random of circumstances, leaving buildings without power, with no way for a quick fix. On Site Energy is your best choice for these emergencies.



HICKSVILLE, N.Y. – On Site Energy is excited to announce the introduction of transformers for rent in the New York, Northern New Jersey market.



Transformer failures happen in the most random of circumstances, leaving buildings without power, with no way to make a quick fix.  For almost 30 years, generators supplied by On Site Energy (OSEC) get these helpless buildings back up and operating.  Office buildings, factory floors, computer rooms, and catering halls are but a few of the kinds of buildings that need power restored immediately.



The next step in recovery is to find the right transformer, and get it installed in the most efficient manner possible.  On Site Energy now has available a full range of transformers from small padmount units, up to 60 MVA high voltage sizes.



They supply the same urgency to identifying and supplying new and rebuilt transformers as they have always done with emergency rental generators.  The customer may benefit most by a simple coil core replacement, leaving all the cabinets and cables in place.  In other cases, a new oil filled padmount, or indoor dry-type retrofit is required.  On Site Energy can now provide both new, and rebuilt transformers with warranty, within 24 hours of the unit being identified.  They also offer a full line of medium and high voltage switches and switchgear.



Serving customers who need power is OSEC's job.  By coupling the deployment of emergency generators, with the supply of transformers, switches and switchgear, On Site Energy is the best choice for correcting power emergencies, immediately.



On Site Energy, the Northeast's leader in the rental of power and temperature control equipment is a total solution driven, regionally networked infrastructure of rental transformers, power, cooling, and heating. OSEC has been the most comprehensive portable energy solution company in the Northeast, since its inception in 1984. On Site's experts help customers in all industrial, commercial and event related sectors meet their goals and reduce their exposure. OSEC's products and services keep their customers' businesses on track and they can deploy equipment rental solutions in a timely manner 24/7, 365 days a year. Whether disaster, equipment failure or planned project, On Site Energy has the rental equipment to meet your needs.



Visit their website for detailed equipment specifications http://www.onsite-energy.com/rentals/Transformer.html or call them toll free at 1-800-RENTAL-1 (736-8241).

More from Sensors, Monitors & Transducers