Transfer Fluid replaces low-temp silicone-based fluids.
Press Release Summary: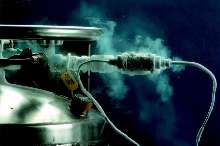 Synthetic Paratherm CR(TM) cryogenic-range transfer fluid provides predictable and repeatable performance in cryogenically driven processes. Fluid properties help eliminate coil freeze-ups. Product offers viscosity of 10 cP @ -88°C and 20 cP @ -96°C and freeze point of <-120°C. Applications include fine chemical processes, pharmaceuticals, secondary coolant systems, continuous process applications, and environmental chambers.
---
Original Press Release:

New -100°C Cryogenic Transfer Fluid


Conshohocken, PA (April 2, 2004) - Paratherm Corporation announces the introduction of a new alternative to low temperature silicone-based fluids. Paratherm CR(TM) (Patent Pending) cryogenic-range transfer fluid provides predictable, repeatable performance in cryogenically-driven processes. One-hundred percent synthetic, its consistent properties provide improved productivity while eliminating quality-robbing runaway coil freeze-ups.

The fluid's low 10-cP viscosity @ -88°C (20-cP @ -96°C) brings higher efficiency at lower temperatures. Replacing d-limonene fluid in the production of fine chemicals for example, the CR Fluid reduced process batch time by over 50%.

The CR Fluid's ease of containment and handling allow engineers significantly greater latitude in equipment design -- and once in production, the fluid virtually eliminates the operational hassles found with other fluids.

These characteristics, coupled with the CR Fluid's low freeze point (<-120°C) have proven to substantially improve quality and yield over d-limonene and silicone-based fluids.

Typical applications for the CR Fluid include, fine chemical processes, pharmaceutical production, secondary coolant systems, continuous process applications and environmental chambers.

Founded in 1988, Paratherm Corporation has become a leading U.S. manufacturer of specialized heat transfer fluids. For more information on new Paratherm CR fluid or other Paratherm Heat Transfer fluids such as NF®, HE®, OR®, LC(TM) or MR(TM), contact Jim Oetinger at Paratherm Corporation, 1050 Colwell, Conshohocken, PA
19428. Phone: 800-222-3611 or (610) 941-4900. E-mail: info@paratherm.com -- web: www.paratherm.com.

To view a detailed application/case history on new Paratherm CR, go to: www.paratherm.com/paratherm-cr/casehistory1cr.pdf.

For further information contact:

John Fuhr, President
PARATHERM CORPORATION
1050 Colwell Road
Conshohocken, PA 19428
(610) 941-4900

More from Electrical Equipment & Systems