Transceiver is certified to FlexRay(TM) Standard v2.1 Rev B.
Press Release Summary: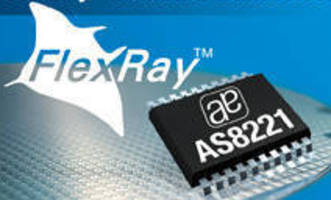 Acting as interface between digital logic and copper cable transmission in automotive networks, AS8221 FlexRay Standard Transceiver is capable of transmission rates up to 10 Mbit/sec. RoHS-compliant unit provides all functions to enable integration in electronic control units powered with permanent battery voltage. While microchip is only fed by car battery, it provides wake-up functionality via network and is therefore responsible for controlling local voltage supply.
---
Original Press Release:

austriamicrosystems Presents the Worldwide First FlexRay Transceiver Produced in Series, Certified to the FlexRay Specification V2.1 Rev B



The AS8221 Standard Transceiver is the undisputed champion in terms of system stability

Unterpremstaetten, Austria (November 3, 2009) - austriamicrosystems (SIX: AMS), a leading global designer and manufacturer of analog integrated circuits (ICs) for communications, industrial, medical and automotive applications, today presents the AS8221 FlexRay Standard Transceiver, which is certified to the latest FlexRay
Standard V2.1 Rev B. This semiconductor device acts as the interface between digital logic and copper cable transmission, for the next generation of automotive networks.

FlexRay is capable of transmission rates of up to 10 Mbit/s, 20 times the speed of unshielded twisted copper cables used in cars today. The FlexRay standard, therefore, demands that each transceiver device fulfills particular requirements, as communication on the combined network must not only be fast, but also extremely reliable. The AS8221 Standard Transceiver is the undisputed champion in terms of system stability, which is a key prerequisite to network structure. Its exceptionally short asymmetric delay is another advantage when planning the network structure.

austriamicrosystems' AS8221 FlexRay Standard Transceiver provides all of the functions to enable its integration in Electronic Control Units powered with permanent battery voltage. While the microchip is only fed by the car battery, it provides wake-up functionality via the network and is therefore responsible for controlling the local
voltage supply. Another safety feature of the AS8221 is its interface to optionally monitor circuits (e.g. bus guardian), which can, in safety-critical applications, uncouple the control unit from the communication network in case of a fault, thus ensuring communication across the remaining network.

"The AS8221 FlexRay Standard Transceiver is the first IC in austriamicrosystems' FlexRay transceiver family, manufactured in serial production, that helps increase the stability and interoperability of FlexRay network communication", says Bernhard Czar, Marketing Director Automotive at austriamicrosystems. "We design and develop our devices not only to meet the FlexRay standard, but to focus specifically on the implementation of innovations that exceed the standard."

The AS8221 FlexRay Transceiver is suitable for automotive applications with temperatures ranging from -40°C to 125°C and is available in a RoHS compliant SSOP20 package. For product specific information, to download data sheets and application notes or to request samples from austriamicrosystems' online shop ICdirect, please visit www.austriamicrosystems.com/flexray/AS8221

About austriamicrosystems

austriamicrosystems is a leading designer and manufacturer of high performance analog ICs, combining more than 27 years of analog design capabilities and system know-how with its own state-of-the-art manufacturing and test facilities. austriamicrosystems leverages its expertise in low power and high accuracy to provide industry-leading
customized and standard analog products. Operating worldwide with more than 1,000 employees, austriamicrosystems focuses on the areas of power management, sensors & sensor interfaces and mobile infotainment in its markets Communications, Industry & Medical and Automotive, complemented by its Full Service Foundry activities.

austriamicrosystems is listed on the SIX Swiss Exchange in Zurich (ticker: AMS). For more information, please visit www.austriamicrosystems.com

More from Electronic Components & Devices