Trans-Lux High on LED Billboards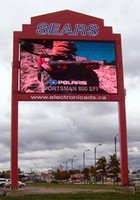 - Efforts in digital billboard market bearing fruit -

NORWALK, CT, January, 2008 - Trans-Lux Corporation (AMEX: TLX) today announced another sale of a standalone, large-scale, full color, outdoor LED digital billboard, the Company's third in three months. The LED digital billboard features the company's new Color CaptiVue technology and will be installed in the southern U.S. during the second quarter.

Trans-Lux, a world leader in electronic displays, announced its first two digital billboard sales in January. The first was installed in January 2007 at a high-traffic intersection in Louisiana. The second installed in March on a Sears property in Canada to generate ad revenue and promote retail merchandise and services.

"Continued customer acceptance and feedback throughout the industry have validated our digital billboard technology and marketing plans," says Michael R. Mulcahy, Trans-Lux President and Co-CEO. "We believe Trans-Lux is properly positioned and on-schedule to get its share of this new and lucrative market, that the Outdoor Advertising Association of America identified as the second fastest growing advertising medium after the Internet."

Trans-Lux's new digital billboard installations feature their full-color CaptiVue display technology and ProLine controller system. CaptiVue is an advanced electronic display system with modular construction, superior LED clarity and brightness, wide viewing angles and a palette of 16.7 million colors. CaptiVue is durable, reliable and cost efficient, supplying up to 100,000 hours of performance at a fraction of the utility and maintenance costs of comparable incandescent and older LED technologies.

About Trans-Lux
Trans-Lux is a full-service, worldwide provider of integrated electronic display solutions for today's communications environments specializing in the design, manufacture, installation and service of large-scale indoor and outdoor LED electronic display systems for applications in the financial, banking, gaming, corporate, retail, transportation, entertainment and sports industries. Trans-Lux has display equipment installed at thousands of locations around the world, including the world's major financial exchanges. In addition to its display business, the Company owns and operates a chain of motion picture theatres in the western Mountain States.

More from Cleaning Products & Equipment