Trane Supply Now Carries Aegis® Bearing Protection Rings for NEMA Frame Motors in Stores Nationwide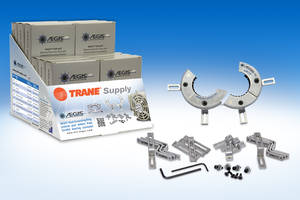 MECHANIC FALLS, ME - Trane Supply now offers AEGIS® Bearing Protection Rings through its nationwide network of Service Centers. AEGIS® universal shaft grounding ring kits (AEGIS® uKITs) are designed to be installed on virtually any brand motor and fit the usable shaft diameter for easy selection and installation by motor frame size. Proven in over 2 million installations worldwide, AEGIS® Shaft Grounding Rings protect the bearings of motors controlled by variable frequency drives (VFDs or inverters) from damaging VFD-induced shaft voltage discharges.
VFDs are one of the most powerful and effective tools designers have to improve the energy efficiency of HVAC systems. By allowing motors to run at less than full speed, VFDs provide a cost-effective means of matching heating/cooling capacity to changing load, thereby dramatically reducing energy costs. For example, because the energy consumption of HVAC fans and pumps correlates to their flow rate cubed, reducing their speed by half reduces the horsepower required to run them by 87%.
But while VFDs can generate impressive energy cost savings, they can also damage motor bearings. VFDs induce voltages on the shafts of the motors they control – voltages that can discharge through motor bearings, destroying them in as little as 3 months! AEGIS® Shaft Grounding Rings channel damaging shaft currents away from bearings and safely to ground, ensuring cost savings from the use of VFDs are not eaten away by bearing repair and motor replacement costs.
For low-voltage motors, AEGIS® Rings are available in solid-ring or split-ring versions for any NEMA frame motor as uKITs with mounting brackets that simplify installation on motors with shaft shoulders, slingers, or other end bell protrusions. AEGIS® Rings are ideal for HVAC motors of 1 HP or greater with shafts to 4.875" in diameter – motors that power air handling units of all sizes, air conditioning systems, condensers, supply and return fans, and pumps.
Trane is the world leader in the repair, replacement, and maintenance of all types and brands of HVAC units, systems, and controls. Trane Service is based on proprietary processes developed from Trane's expertise as the world's leading chiller manufacturer.
For more information, contact:
Adam Willwerth,
Sales and Marketing Manager,
Electro Static Technology,
31 Winterbrook Road,
Mechanic Falls, ME 04256,
Toll-Free: 1-866-738-1857,
TEL: (207) 998-5140,
FAX: (207) 998-5143,