Tranceivers are offered in high bandwidth versions.
Press Release Summary: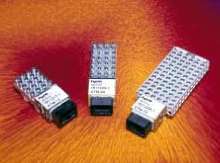 Para-Optix(TM) Transmitter/Receiver and Transceiver product family includes transceivers that mate to Para-Optix Cable Assemblies utilizing MPO-style connector. Products incorporate 850 nm Vertical Cavity Surface Emitting Lasers (VCSELs) for VSR applications. Transmitters/receiver, with 12 fibers, is targeted to SNAP-12 Standard, while transceiver incorporates 16-72 fibers. Data rates are offered from 2.7-3.4 Gb/s per channel, with demonstrated reach of up to 1.1 km.
---
Original Press Release:

Tyco Electronics Offers High Bandwidth Para-Optix(TM) Transceivers


Harrisburg, PA, March 24, 2003 - Tyco Electronics introduces a new high bandwidth Para-Optix(TM) Transmitter/Receiver and Transceiver product family. All transceivers mate to the Tyco Electronics Para-Optix(TM) Cable Assemblies utilizing the MPO-style connector.

The product incorporates 850nm Vertical Cavity Surface Emitting Lasers (VCSELs) for VSR applications. The 12-fiber transmitters/receivers are targeted to the SNAP-12 Standard. The transceivers incorporate from 16 to 72 fibers.

Tyco Electronics' Para-Optix Transceiver products are designed to address applications in the telecommunications, datacom, computing, and data storage industries.

Features include:
o Small package design measuring ½" in height
o VCSEL redundancy with 2:1 VCSEL count per channel
o Programmability through the I2C interface
o Pluggable for ease of assembly
o Data rates of 2.7 to 3.4 Gb/s per channel, or an aggregate through-put of 245 Gb/s for a 72 fiber transceiver module
o Demonstrated reach of up to 1.1 km

The Para-Optix Transceiver product is powered by a new Xanoptix optically enabled integrated circuit technology. The Para-Optix product family includes the transceivers, the interconnecting cable assemblies, and cable management products to provide a complete solution for low to high-speed solutions from chip to chip to Campus and Enterprise solutions.

"As more speed and added features are demanded from equipment at lower cost and requiring less space, it's only natural that more functionality must be packaged into each component in the system. Xanoptix's approach to parallel optics will allow our board level systems designers to offer significantly improved solutions to their customers," said Dennis Renaud, Director, Global Fiber Optics Engineering and Product Management at Tyco Electronics.

Tyco Electronics is currently sampling product with full production anticipated for Summer 2003.

For further information on these and other Tyco Electronics' fiber optic products, visit our website at: www.tycoelectronics.com or contact Tyco Electronics' Technical Support Center at 800-522-6752.

About Tyco Electronics
Tyco Electronics is one of the major business units of Tyco International Ltd. Tyco Electronics is the world's largest passive electronic components manufacturer; a world leader in cutting-edge wireless, active fiber optic and complete power systems technologies; and is also rapidly developing extensive networking and building technology installation services. Tyco Electronics provides advanced technology products from over forty well-known and respected brands, including Agastat, Alcoswitch, AMP, AMP NETCONNECT, Buchanan, CII, CoEv, Critchley, Elcon, Elo TouchSystems, LDI, M/A-COM, Madison Cable, OEG, OneSource Building Technologies, Potter & Brumfield, Raychem, Schrack, Simel and TDI Batteries.

TYCO and Para-Optix are trademarks. Other products, logos, and Company names mentioned herein may be trademarks of their respective owners.

More from Sensors, Monitors & Transducers