Training Video Console certifies driver to dispense CNG.
Press Release Summary: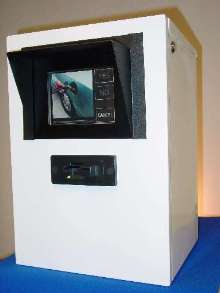 Training Video Console allows Natural Gas Vehicle drivers to receive automated training in operation of Compressed Natural Gas dispenser at unattended station. It links Training Identification Number to driver's credit card. Upon viewing video, driver is advised of security code necessary to obtain authorization in conjunction with credit card. Without viewing entire video, driver cannot obtain TIN, and thus utilize retail card to authorize transaction.
---
Original Press Release:
Multiforce Offers Credit Card Reader/Trainer For CNG Dispensers

New Training Video Console Expands NGV Market to VISA and MasterCard Users

Princeton, NJ (May 14, 2004) - Multiforce Systems Corporation today unveiled its new general-purpose Training Video Console that allows Natural Gas Vehicle (NGV) drivers to receive automated training in the operation of a CNG dispenser at an unattended station. This clears the way for station operators to accept VISA, MasterCard and other credit cards for general public use at NGV refueling locations and comply with local rules. Multiforce designed the Training Video Console to link a Training Identification Number (TIN) to the driver's credit card. Upon viewing the video, the driver is advised of the security code (TIN) necessary to obtain authorization in conjunction with their credit card. Without viewing the entire video the driver cannot obtain the TIN, and thus utilize the retail card to authorize a transaction.

For safety reasons, California fire officials have long held that every person operating a CNG fuel dispenser be confirmed trained. In the past, CNG fuel providers, such as Clean Energy, issued proprietary fueling cards for billing purposes. By issuing proprietary cards, they maintained control over who had access to their public sites. This enabled them to confirm that a driver was trained on how to operate a CNG dispenser. By managing this process on an individual basis, they confirmed training of each NGV user, and thus complied with the fire officials' requirements. However this was a costly process that inhibited the expansion of the CNG market to the general public.

The first Training Video appeared on GreenField Compression's State-of-the-Art Retail CNG Fuel System that incorporates a Gilbarco Advantage Dispenser with Infoscreen card reader. Watching a short Training Video prior to authorization of an ordinary bank or fleet credit card certifies a driver to dispense CNG at this Greenfield Retail Dispenser.

"Numerous private and public CNG fueling stations are installed in California without the ability to use credits cards, such as VISA and MasterCard. Due to the dramatic growth in the NGV market, there is a need to provide existing CNG fueling stations with a low cost, credit card billing system while also providing on-site refueling training." states Multiforce President, Tom Bates.

The new standalone NGV Training Video Console can be placed at an unattended fueling site, a convenience store, a dealership, or other convenient location. A TIN assigned to the driver's credit card after watching the video will permit access to the GreenField CNG dispensers and to Multiforce's FuelForce card readers.

The benefit to the drivers is that they can purchase CNG as easily as other fuels. Also, it opens up the possibility of purchasing CNG from numerous private sites that wish to increase the return on their investment by selling to the public. These site owners can upgrade their sites to public access by simply signing up with a credit card clearing house and purchasing a FuelForce card reader controller to attach to their existing dispenser. If they wish to certify drivers at their site they can also purchase the FuelForce Training Video Console. Alternatively, they can purchase a new GreenField CNG Retail Dispenser that includes the Training Video module.

Multiforce Systems Corporation, founded in 1981, has pioneered many concepts in automated fueling systems. They were the first to introduce a secure system that did not require cards, keys, or other input devices. "Multiforce has made a strategic commitment to the Alternative Fuels Industry." says Mr. Bates, "We first installed FuelForce controllers on CNG dispensers in 1988. Since then, we have sought ways to increase the CNG fuels infrastructure by developing software and hardware that allowed open access to CNG fueling sites." Multiforce designs, builds, and maintains its own controllers and develops all software in-house. Additional information about the company can be found on the Multiforce website at www.fuelforce.com.
More from Software