Trailer Suspension System suits self-steer axle applications.
Press Release Summary: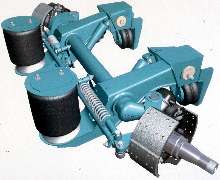 Liftable INTRAAX® STEERABLE(TM) incorporates UNDER BEAM LIFT(TM) mechanism and automatically equalizes load via INTRAAX top-mount and low-ride/liftable non-steer systems with capacities from 23,000-30,000 lbs. Available in ride heights from 9-19 in. with axle lifts from 4.3-5.6 in., system features leading kingpin design and fits standard trailer frame widths. It has 20° wheel cut with 22.5 in. tires and design that allows use of spring brake chambers.
---
Original Press Release:
Hendrickson Extends INTRAAX Benefits to Self-Steer Axle Applications
CANTON, OHIO - The lightweight INTRAAX® STEERABLE(TM), liftable trailer suspension system, epitomizes Hendrickson's total system solutions philosophy. Scheduled to launch production this summer, the INTRAAX STEERABLE delivers all of the benefits of Hendrickson's road-proven INTRAAX integrated system and compact UNDER BEAM LIFT(TM) (UBL(TM)) mechanism in a configuration that satisfies the new regulations in Ontario and Quebec for infrastructure-friendly vehicles. Combine the new STEERABLE with Hendrickson's automatic lift axle control kit for a complete smart system that offers convenience and operational efficiency. Automatically load equalizing with INTRAAX top-mount and low-ride / liftable non-steer systems in capacities from 23,000 to 30,000 pounds, the STEERABLE automatically locks when traveling in reverse. Intelligent design of the steering dampers and reverse lock mechanism eliminates welding to the axle between the trailing arms - a common cause of axle failure in the industry. INTRAAX also features a ten-year / one-million-mile limited warranty on the axle / trailing arm connection. Taking advantage of the low-profile beam design of the INTRAAX low-ride / liftable, the STEERABLE comes in ride heights from nine to 19 inches with axle lifts from 4.3 to 5.6 inches. The system features a leading kingpin design and fits standard trailer frame widths. It provides a 20-degree wheel cut with typical 22.5-inch tires and a design that allows the use of spring brake chambers. Employing Hendrickson's system integration, the STEERABLE delivers a package that weighs in at up to 74 pounds an axle lighter than comparable suspension and lift axle configurations. The compact UBL features the same rugged craftsmanship that has made Hendrickson trailer suspensions the most popular air-rides in the industry. With very few moving parts and no metal-on-metal wear zones, the UBL requires no additional trailer support structure and provides an efficient, low maintenance package. At less than 60 pounds, the UBL weighs half that of most lift mechanisms on the market, and the compact package allows for close axle spacing and leaves plenty of room for auxiliary equipment. Hendrickson offers a wide variety of manual and automatic lift axle controls as well as back-up alarm and light configurations to enhance the capabilities of trailers equipped with INTRAAX. Hendrickson developed the STEERABLE drawing upon patented INTRAAX tapered-beam technology and unmatched design experience. It brings many of the advantages of an integrated system to a steerable lift axle system including exceptional weight savings; QUIK-ALIGN® for fast, easy, accurate axle alignment, and the first standard trailer Cam Tube System(TM) for reduced S-cam maintenance. A variety of READY-TO-ROLL® options including our new, cost-effective HLS(TM) (Hendrickson Long-life System(TM)) wheel ends and HXS® (Hendrickson Extended Service(TM)) brakes allow fleets and owner operators to customize their systems to meet specific hauling needs. For additional information about the INTRAAX STEERABLE and accompanying lift axle controls, contact Hendrickson International, Trailer Suspension Systems, Canton, Ohio, toll free at 866-RIDEAIR (743-3247). Hendrickson International is one of the largest global suppliers of truck and tractor suspensions; trailer suspensions; lift, trailer and steer axles; springs; bumpers, and stamped components to the commercial transportation industry. Headquartered in Woodridge, Ill., Hendrickson has been meeting the needs of the transportation industry for 90 years. Visit the Hendrickson web site at www.hendrickson-intl.com.
More from Computer Hardware & Peripherals